I recently had a couple of epiphanies about scrapbooking and I thought I might share them with you today.
It all started with my grandmother's scrapbook.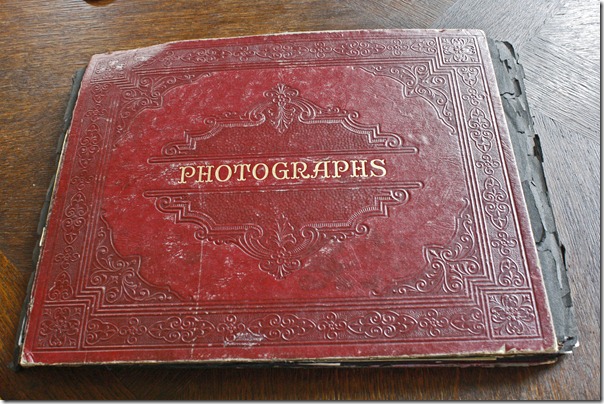 As I shared recently, my grandfather served in WWII and in the Battle of the Bulge.  In the photo below, he is pictured on the right with some of his comrades.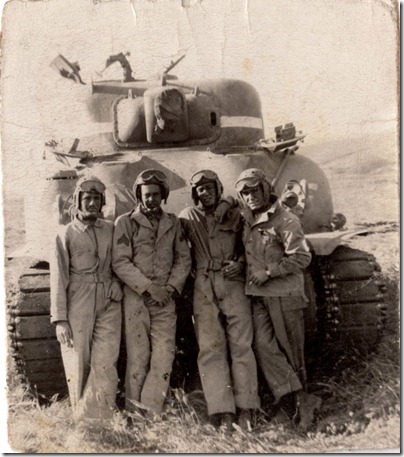 I know it must have been special to Edna since she took such care to preserve it.  The thing that really spoke to me though was the inscription on the back, "This is one of the tanks that I left in Belgium with two holes shot through it. Picture was taken in France. Thank God it is all over."  Such powerful words!   It's hard to imagine how it must have felt for him to have literally (!) dodged a bullet and the relief to know he was coming home.  So therefore no longer is this just a snapshot of my grandfather next to tank (which is still a photo worth having on it's own merit), but now it is a little insight into the great man that I never knew.
And then also in Edna's scrapbook was this photo.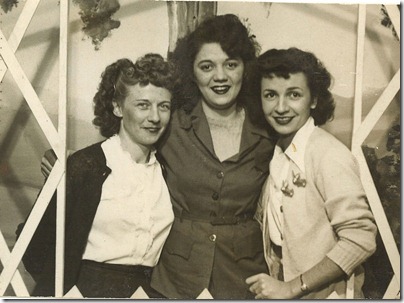 My grandmother is pictured here on the right with two other women, but sadly I have no idea who they are because there's no writing on the back or on the page where she glued it down.  I even asked my mom about it and she had no idea who those women were.  I guess it doesn't really matter all that much who they were, but yet for some reason this photo really resonates with me.  Partly I think because it reminds me of all the fun times I've had with my two best friends Carrie and Suzanne.  But mostly it's because this photo tells another side to my grandmother's story – in her short life full of so much tragedy and suffering, Edna (at least sometimes) enjoyed her life.
And so with these two photos, two very important stories were told.  The only difference is that the photo of Byron with his inscription really gets to heart of the matter.  His heart.  His feeling and thoughts.  In contrast, I would love to know more about the who/what/when/where/why of the photo of Edna and her friends.  I would love to know  what made them so special to her.  More about this part of her story.
So for the past couple of weeks, I've thought a lot about these two photos.  And two things really stood out to me.  Two revelations about scrapbooking that really validated the hobby that I love so much.
The first is that I realized that scrapbooking and preserving memories is so much bigger than just some photo albums to look at when we're feeling all nostalgic and sentimental.  Chances are someday, someone will want to know about us.  Who we are.  What we did.  What and who we loved.  And why we loved it.  Our stories matter to future generations.  And we are the only ones who can tell it.
The other thing I learned about scrapbooking is that it's not all about my kid.  Please don't get me wrong – I have loved every. single. minute of documenting my daughter's life in photos and scrapbooks.  She was reason I started scrapbooking in the first place!  But I'll be honest…in recent years, scrapbooking kind of lost a little of its gratification as Kelsey got older and disliked being the primary focus and subject of my camera lens and scrapbook pages.  Now, though, I have realized there is more to my story than being a parent. And those stories are just as important to tell.
I feel as though these revelations have really renewed my passion for scrapbooking.  Of course I'll always love the tactile, creative aspect of this hobby.  But now there is a new focus, a new purpose.  I feel inspired once again.
So with that in mind, here are a couple of recent pages from my Project Life album.  You can see where once again it's pretty much the same stuff I have shared from my blog.  I really love preserving memories this way!
Telling our story.  Because it matters.  That's why I scrapbook.
Love, Kelly