So the last time we went to visit my parents, my dad and I had an in-depth, intense (heated perhaps?) discussion about what exactly a cobbler is and isn't.  It wasn't the first time we'd had this discussion, so therefore I knew exactly how it was going to go down.
Me – Daddy, you can make cobbler either way.  You can make it with a batter or with a crust.

Daddy – No Sis.  A cobbler is in a square pan with a crust on the bottom that folds up over the top.

Me – Well Daddy.  A cobbler with a crust on the bottom and the top sounds more like a pie.

***here's where it gets good.  wait for it***

Daddy – No Sis.  Pie are round, cornbread are square!
Hardy Har.  Same lame-ass joke every time.

My mother would like for you to know that I get my demented sense of humor from my dad.
Anyway, since I was feeling a little nostalgic about my dear ol' dad last weekend, I decided to make cobbler his way.  With the crust.  Sorta.  It's not nearly as difficult as I had imagined it to be (my main reason for making it the other way), so I thought I'd share with you how I put it together.  Because (shhhhhhh…don't tell my dad) it really is so delicious.
The recipe is basically in two parts and I usually start with the pastry.
For the pastry:
2 1/2 cups AP flour
2 tsp baking powder
3/4 tsp salt
1/2 cup cold, unsalted butter
2/3 cup milk
First, combine the flour, baking powder, and salt. Then cut the butter into small pieces and add them both to the bowl of a stand mixer.
Mix on low speed with the paddle attachment until the mixture is crumbly like coarse meal. Next add the milk and mix on low speed until the mixture just comes together into a coarse, sticky ball.
Next dump the mixture onto your countertop and form it into a soft ball.  Knead it few times until it more or less holds together and then wrap the entire ball tightly in plastic.  Place it in the fridge for a couple of hours to chill.
While the dough is chillaxin', we can get the filling ready.
For the filling:
8 cups fresh (or frozen) blackberries
2 cups sugar
1/2 cup flour
1 tsp lemon juice
1/4 cup of unsalted butter
I may have gone a little overboard when I went blackberry pickin' with my friend Ann.

  And there was no way that my family of three could ever eat all those berries before they went bad so I froze most of the berries I picked. So that's what I used for this cobbler.
*Berries are super easy to freeze!  Just gently wash and pat dry the berries, then place them on a sheet pan and freeze for a few hours.  Then you can portion them into zip top freezer bags.
OK.  So back to the filling.  In a large bowl combine all the ingredients except the butter. Then dump all of that into a well buttered 9×13 glass or ceramic baking dish.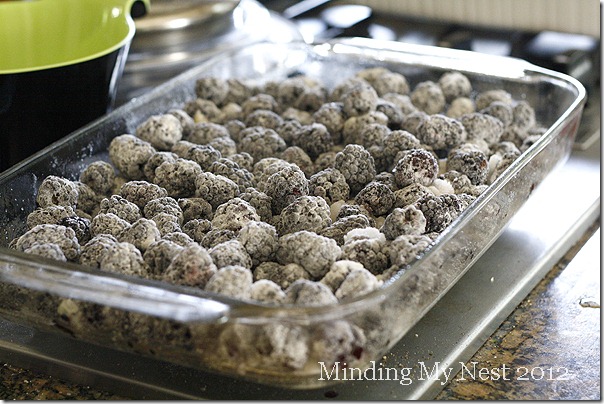 Theoretically, I should have let my berries thaw a bit first, but that's just how it goes sometimes.  I blame menopause brain.
Next, cut the butter into small pieces and dot top of the berries.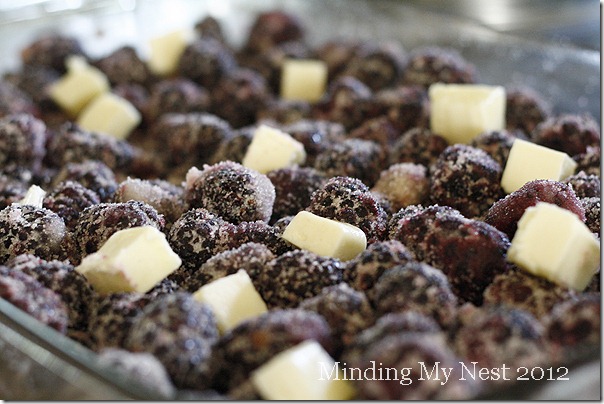 Now go grab the dough from the fridge and place in onto a well-floured surface.  I like to flatten the dough into a rectangular disk first – I think it just makes rolling out the dough a little easier.
Next roll the dough into a 9×13 inch rectangle approximately 1/4 inch thick .  Then cut the dough into approximately 1 inch strips. I used my pizza cutter for this.  And I may or may not have also used my handy-dandy yardstick to make straight lines.  Because I'm cool like that. 

Now comes the fun part!
To make the lattice top, first lay down four strips of pastry running the length of the dish.  With a shorter strip of dough (you can cut the remaining strips down to fit here), place it under two alternating long strips at one end of the dish.
Pull back the two long strips that fall underneath the two short pieces.  Then lay another short strip next to the existing strip.  Replace the long strips and then pull back the opposite strips and repeat until the entire top of the cobbler is covered with lattice.  Then sprinkle the top of the pastry with a couple of tablespoons of sugar.
I promise it's nowhere near as difficult as I just made it sound. 

  And look how pretty!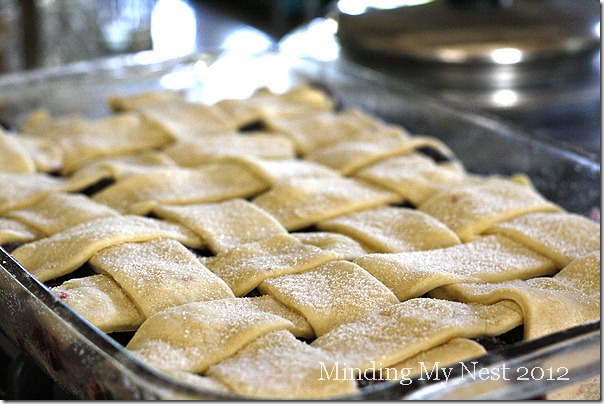 Back the cobbler at 350 degrees until the crust is golden and the filling is bubbly.  Hello beautiful!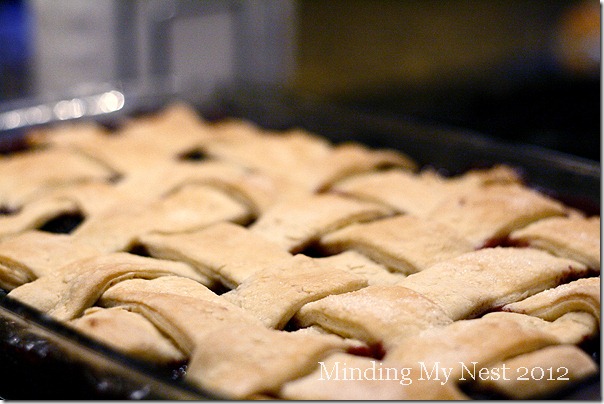 Now this is the important part!  Serve it while its hot.  Because that way your vanilla ice cream that you're going to serve on top will start to melt, and that creamy goodness is just so delicious with the hot cobbler!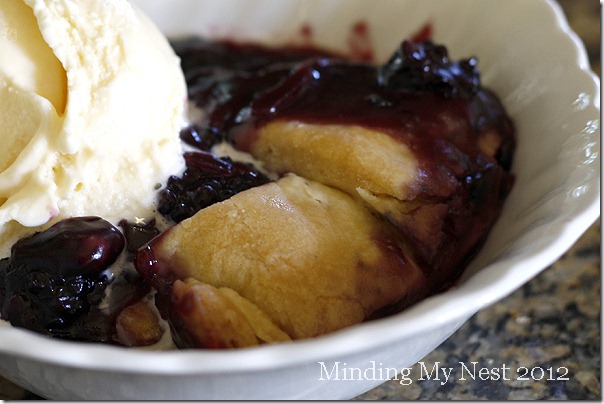 Seriously this is good stuff.  The real deal.  And between you and me…I think I like this way better because when the berries release their juicy goodness it creates kind of a thick syrup.  And that combined with the tart berries, the crisp pastry, and the cold, creamy ice cream is really heavenly.
Just please don't tell my dad I said that. 

Blackberry season is winding down, so be sure to get some soon.  And be sure to make some cobbler.  It's not pie and not square, but it adds up to be a wonderful dessert that will make your daddy proud.
Peace, Kelly