I love this photo of my Granny's kitchen.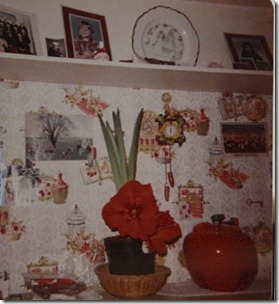 I'm not sure when it was taken (maybe the 70's?), but this is exactly how I remember it. The wallpaper, the little clock, her 'doo-dads' as she liked to call them. You could always find cookies in her big red cookie jar. And not shown in this photo is a three-tiered candy jar on the shelf that always held the same things – chocolate peanut clusters, old-fashioned Brach's cut rock candy, and either pastel dinner mints or peppermints.
Some of my earliest memories are in this kitchen. I distinctly remember being maybe three or four years-old and sitting on the countertop next Granny while she made pancakes. She'd always save the teeny drips of cooked pancake batter that collected in her skillet. Then when it came time to eat breakfast, Granny would put them on my plate and I would drown them in Karo syrup. Also when I was very little, I remember standing on a chair at the sink wearing Granny's apron and "washing dishes." I probably made more of a mess than anything, but Granny didn't care. That was the wonderful thing about her – whatever she was doing, Granny let me be right next to her. And that was my favorite place to be.
It wasn't just me who loved Granny's kitchen though. Everyone flocked to the kitchen and regardless of what time of day it was, you could always find someone sitting at the kitchen table. Mornings were the best when everyone was up and sitting around the table drinking coffee. Or later in day when someone was scrounging for leftovers out of the fridge. Even late at night there were always a few who could be found finishing off the last of whatever homemade pie was left.
I spent a lot of time in that kitchen as a little girl whether it was right next to her "helping" or being rocked back forth in her lap while she and my mom sat at the table drinking coffee. Granny's kitchen was kind of a hallowed place where love and food were dished out in equally generous amounts. You always left the table feeling full both in your belly and in your heart.
I'm thinking about Granny today – it would be her birthday. I still miss her so much even though she's been gone for such a long time.
I think the thing I love most about photographs is their ability to transport you to another time and place. And even better, making you feel connected to loved ones who are so dearly missed.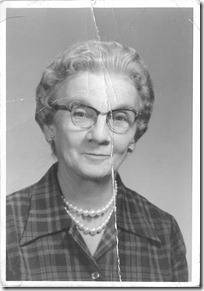 Peace, Kelly