Depending on who you ask, Tripp or me, last weekend was really awesome for completely different reasons. For instance Tripp might tell you that the highlight of the weekend was watching OU win against Florida A&M 69-13. But if you ask me, last weekend was great because we got to spend it with not only our delightful daughter, but also our closest friends.
Both our friends from Houston and Chicago got to come for the first home game! It was so, so great getting to spend time with my BFFs and their families. It had been an entire year since we'd all been together on vacation.
way. too. long.
I could go on ad nauseam about the game and what we did, but I think instead I'll just share some pics I took with my phone.
Have I told you lately how much I love my iPhone??
And here are some pics my friend Carrie took.
This photo though…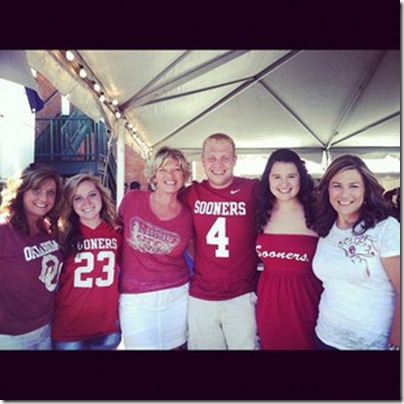 ***sigh***
It's really quite amazing when you think about it. How the three of us met almost 20 years ago and became friends. How we've managed to stay close all these years even though we've never lived in the same city. How are children all go to the same university that brought us together in the first place and are now close friends themselves. Honestly, it's sometimes hard for me to wrap my head around.
All I know is that I am so incredible grateful for these two women. So thankful for their love and support. And now to share this special connection.
Sooner moms.
So blessed.
Kelly