Last summer really did a number on the landscaping behind our pool.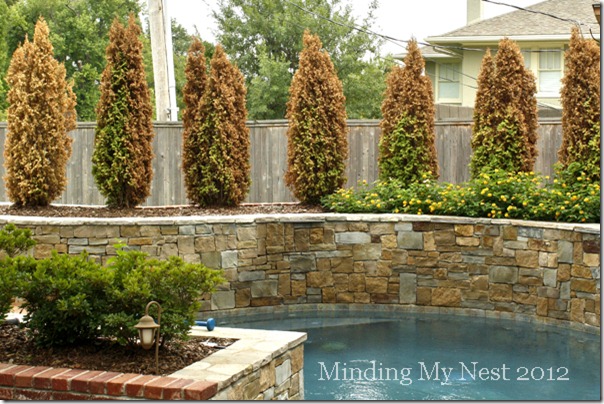 We lost all twelve of the 'Degroot Spire' Arborvitae that were planted in the raised bed behind the pool. Not only was it a lot of work taking them out, it was a huge loss both aesthetically and (perhaps even more upsetting) financially.
Since then, I've done a little research as to why all our trees bit the big one. And what I discovered is that it wasn't just due to the merciless heat, but rather a combination of heat and a couple of other factors.
Although Arborvitae are typically heat and drought tolerant, last summer's heat was anything but typical (the hottest July on record anywhere in US!).
In addition to the hot weather, this particular flowerbed receives a huge amount of reflected sun and heat from the pool – basically Mother Nature x 10.
Because our flowerbed is raised, the roots of the trees didn't receive any protection from the moderating effects of the ground.
Pool landscapes are a challenge to landscape. They are often in the sunniest parts of the yard and therefore subjected to lots of reflected sun and heat. Whatever gets planted there has to be TOUGH. No sissies allowed!! So I did some homework when deciding what to replant in our barren flowerbed.
Crape Myrtles thrive in the south and are often used in commercial landscape where they are subjected to lots of sun and reflected heat from parking lots. Plus they are fast growers so they'll be perfect for screening the power lines behind our house and less than beautiful aspects of our neighbor's garage apartment. It just so happened that we had three that were underperforming in a slightly shady area of our yard, so we transplanted them behind the water fall area.
I've also been pleased with the performance of the Nandinas that we planted around the back porch and on the west side of the house. They are in raised beds as well and have thrived in the hot, sunny environment. Plus I also suggested to Tripp that we incorporate some perennial grasses which are native to the south and are extremely drought tolerant.
So last Saturday, armed with the knowledge of what wouldn't work and the challenges of our particular flowerbed, Tripp and I made a trip to Southwood Nursery. Then we made a pit stop to Weber's for a little refueling.

Then it was back to home to commence the great flowerbed replant! Here is the before.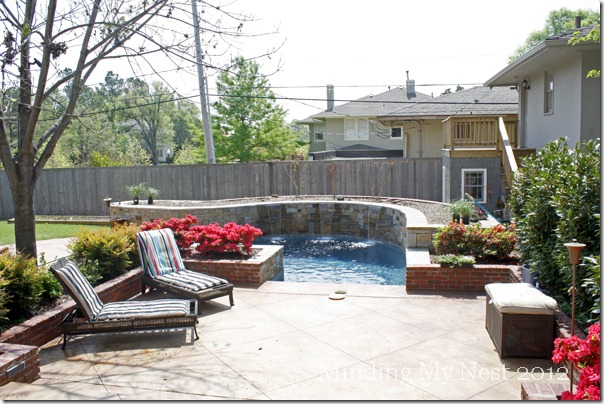 Here is after.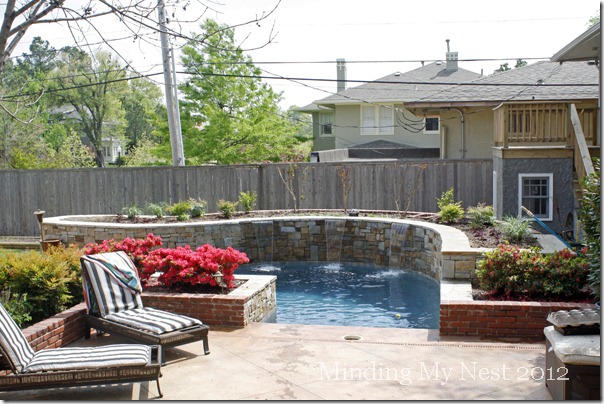 In addition to the shrubs and grasses, I also planted some annuals for color and contrast.
I think this dark purple Coleus will be awesome!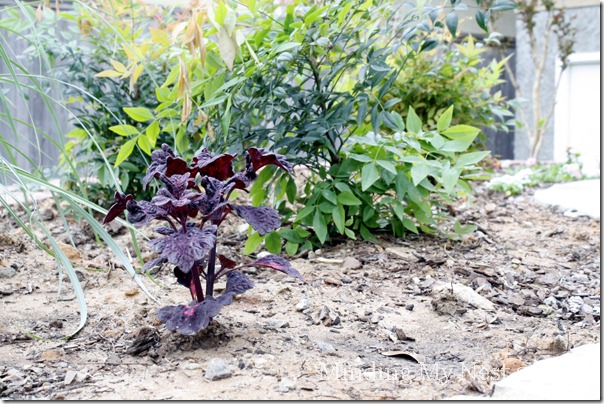 Overall I'm pleased how our plantings turned out and I'm anxious to see how they will fill in this summer. For all you garden nerds like me

, here is a list of exactly what we planted:
'Dynamite' Crape Myrtle
'Gulfstream' Nandina
'Adagio' Maiden Grass
Lantana 'Sunrise Rose'
Sweet Alyssum 'White'
Supertunia 'Strawberry Pink'
Snowstorm 'White'
Sun Coleus
I love this quote!
In the Spring, at the end of the day, you should smell like dirt. ~Margaret Atwood
I smelled like something…not sure I'd call it dirt.

Anyway, I hope you had a great weekend and had a chance to enjoy some pretty Spring weather! It's making me extremely happy.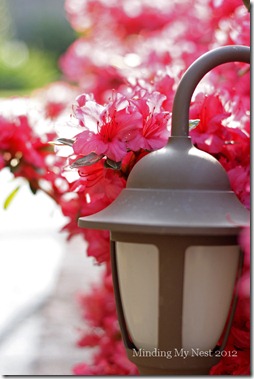 Peace, Kelly