Welcome to the One Little Word April blog!  If you have arrived here from Tere at http://terecontodomicorazon.blogspot.com/ then you are in the right place. I hope you have enjoyed reading about these ladies' journeys as much as I have.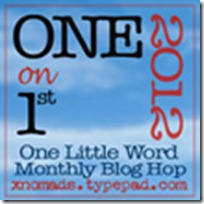 This month's OLW assignment was all about taking action and making deliberate choices that would manifest my word *TRY* in my life.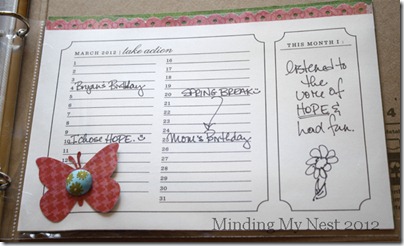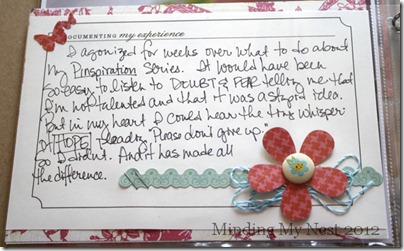 For me, this month wasn't about taking small actions.  No, this month came down to one BIG decision.
Once and for all, was I going to listen to voice of HOPE or not.
I guess I should preface this by saying that I am a terrible decision maker.  If something needs to be overanalyzed or worried to death, I am your (wo)man.  Pray about it – of course.  Pros and cons list – you betcha.  Drive my family and friends crazy talking about it – oh you better believe it.  Cry like a big baby – yup, did that too. 

The thing is, when I went back and looked at my original intentions, I realized that I had actually invited all this frustration.
…But because of the very nature of the word *try*, I also accept that the following things may happen.  I may:

embarrass myself
feel uncomfortable
be frustrated
fail miserably
Most of the time, my OLW is like background music in my mind.  But this month my word was more like my Fitness Bootcamp coach shouting at me as I struggle through the 37th Burpee of the morning, "YOU WANT SOMETHING YOU NEVER HAD, YOU GOTTA DO SOMETHING YOU NEVER DONE!"
It would have been so easy to bypass all that frustration and just give up.  And I was totally prepared to do just that.  Doubt and Fear were playing in stereo, "Who do you think you are anyway?  It's a stupid idea.  You're not even that talented."  But then I remembered something that my mom used tell my little brother and me, "The harder choice is usually the right one."
So I guess the question is – Why is it so hard for me to choose HOPE?
I think part of it is fear of failure – if I don't TRY anything new then there is no possibility of failing at something.  But mostly I think it's because the voice of HOPE is so very hard to hear in the midst of blaring negativity.  HOPE is more like a tiny little whisper of the heart that pleads, "Please don't give up on us."
In the end, I chose HOPE…I did not give up on my Pinspiration series.  And you know what happened??  Absolutely nothing.  On the outside that is – the Earth kept right on revolving around the Sun and not once has anyone called me out as a two-bit Pinterest whore.  Because guess what? Nobody cares! Don't get me wrong – I know my family and friends care about me.  But the world at large could not care less.
What a liberating discovery!!
So that's the thing…if all of this nonsense is in my head, then that means it's all up to me – I get to choose.  I get to choose what my life looks like and I get to choose who to listen to.
And from now on, I'm choosing HOPE.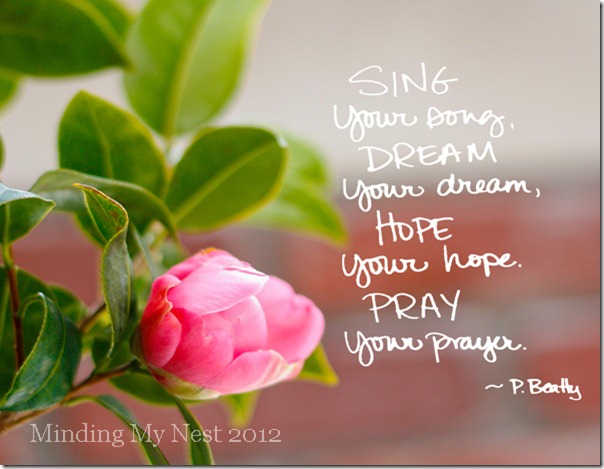 So much power in one little word.
Thank you so much for stopping by my blog.  Next you should be directed to Heidi at http://mommy.heidimdavis.com.  If you get lost along the way, you can see the entire list of participants below.
Peace, Kelly