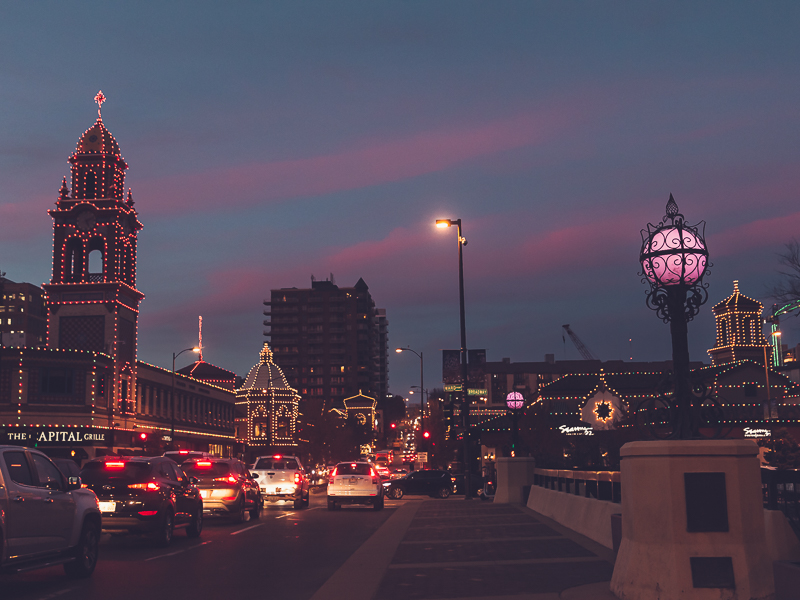 Earlier this year the company Tripp works for was bought by a large, multinational corporation. This had always been the plan which was one of the biggest factors in our decision not to move to Kansas City. We decided that we could make Tripp's commuting to KC work. 
Tripp was offered a position with this new big company doing basically the same work he has always done, and the really good news is that he would be able to work from home. So at the end of July, we moved out of our KC apartment and caravanned home leaving the commuting life behind.
He still has to travel to KC occasionally, which was the case last week, and since we also had tickets to see Kip Moore in concert, we decided to ride up together on Wednesday morning. We stayed at a hotel in the Country Club Plaza district which gave us a front row seat to the Plaza Lights, a 15-block holiday light spectacle that has been a local tradition for more than 90 years.
Thousands of jewel-colored lights outline every dome, tower, and window of this historic shopping district. And walking around after dinner, taking in the sight of it all felt utterly magical in every way.
I've been thinking about this time last year. Tripp was still commuting back and forth to KC every week. We still had our tiny apartment. The future was still uncertain. And the weight of it all was really taking a toll on both of us.
What a difference a year makes.
Now that Tripp is working from home for the most part, whenever I do come up to KC with him, it almost feels like a little mini-getaway. Nothing like the previous three years we spent slogging away and trying to hold everything together.
That night, standing there in the median capturing the Plaza lights with my camera, I felt an overwhelming sense of gratitude and joy. Not just for the delight of the holiday lights, but for God's grace helping us make it through that very hard season of life. And I can't imagine a better way enter into the month of December.
Love, Kelly