my kitchen is starting to look like a kitchen again.  thank you Jesus!
yesterday tripp re-hung my cabinet doors for me and thankfully without any major hitches.   i like to think that my excellent labeling and organization of all of the parts made it easier.  tripp would probably say otherwise…apparently our kitchen is heavy on the left-handed screwdriving.
after we got finished with that, i started tackling the job of putting all of the contents of the drawers away…..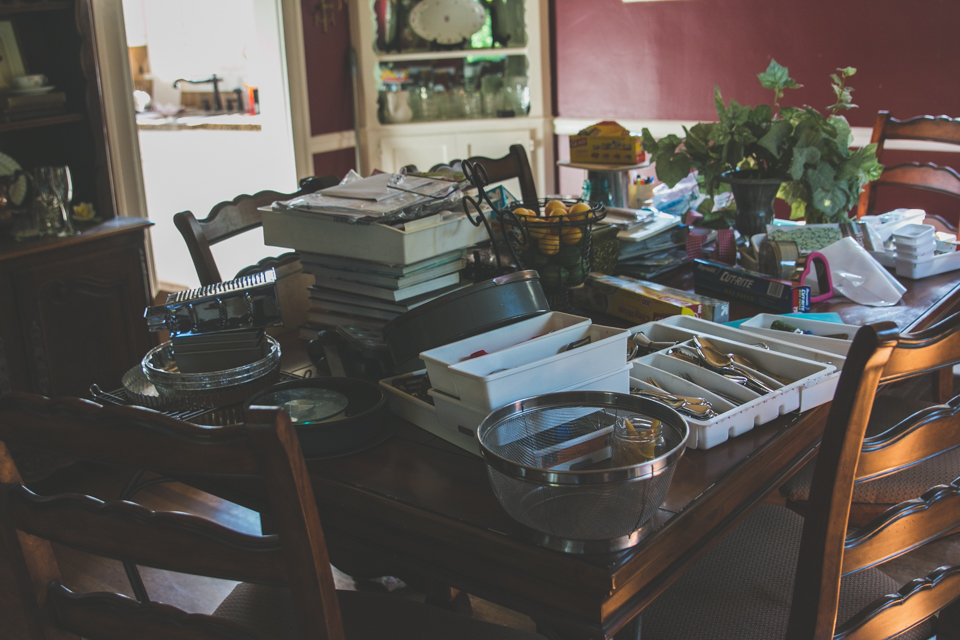 ……so. much. shit.  i mean who needs this much stuff.  and even more importantly…when did i become the crazy holiday cupcake liner lady??  and this doesn't even count the box of stuff from our junk drawers.  who has four junk drawers???
apparently i do.
anyway, once that job was done, i started (very judiciously i might add) putting some of my stuff back on the countertops.  in important news i moved the coffee pot to the other end. this morning it sort of felt like i had parted my hair on the wrong side or something, but it makes sense to have it next to the cupboard with the coffee cups.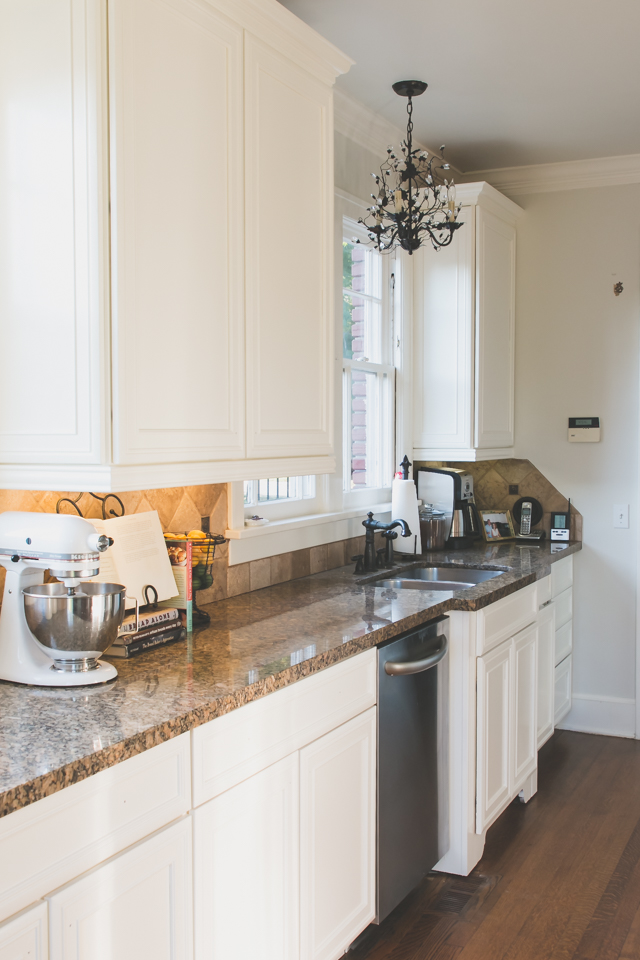 just so we're clear here….this is not the normal state of my kitchen countertops.  but just for the five minutes it lasted after it took this picture, it felt nice to have one small area of my kitchen sort of put back together.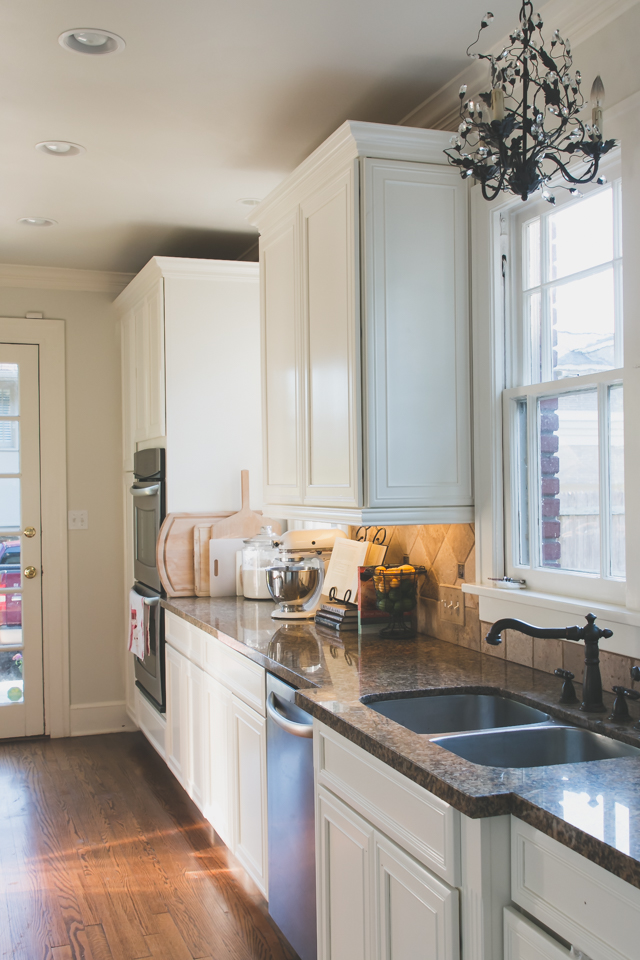 i'm so happy with how it turned out.  a new backsplash will be phase two of this project (totally calling in our neighborhood handyman for that job) and i have a farmhouse style light fixture picked out for over the island.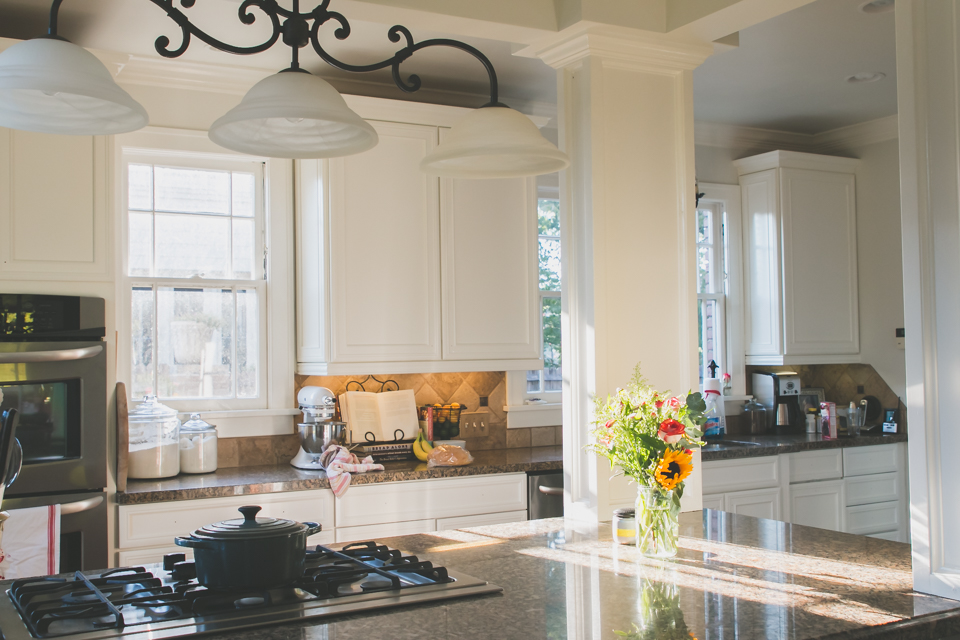 with the cabinet doors installed, i would say that this project is now about 90% complete.  i need to re-attach all the knobs and i have a TON of touching up do.  but by yesterday evening i was completely wiped out.  my neck hurt, my feet were killing me.  and i had just gotten to that point where i was sick of being covered in paint.  sick of smelling like something resembling a barnyard animal. and i just wanted my kitchen back.
i'm not sure if it's me or just the nature of kitchen projects…but they seem to take over everything.  by sunday evening we had no food in the house, no clean underwear, the cat was giving me that, 'hey are you ever going to clean my litter box?' look.  and we're not even going to discuss the horrific state of my eyebrows and chinhairs.
hopefully in the next week, i'll be able to get some of last little things knocked out.  looking forward to having my stuff on the walls…to have it look more homey.  looking forward to getting this stuff out of the house and put away.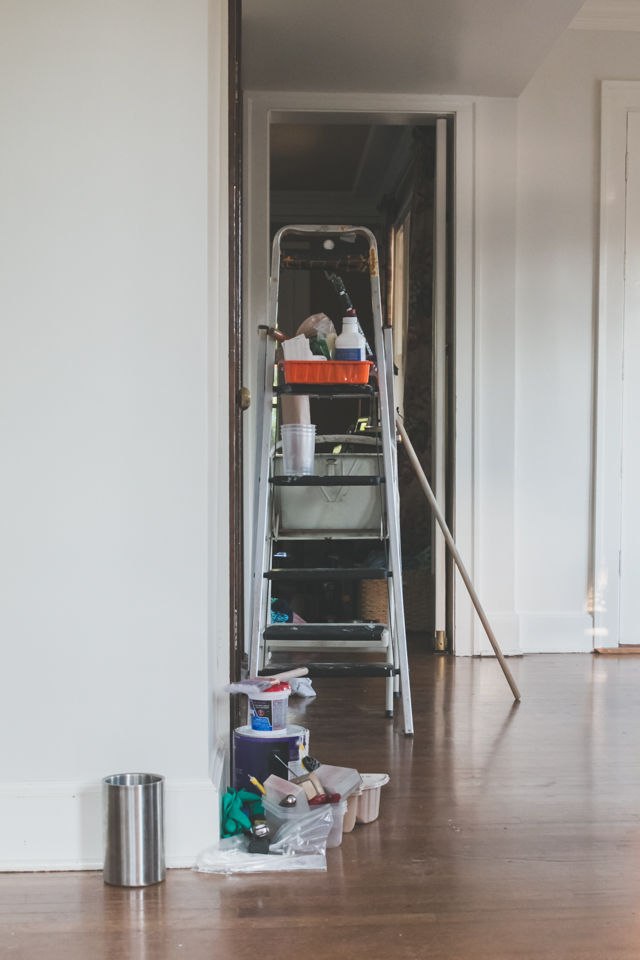 so this is definitely not my 'after' post.  but i am so happy with the way the way it's turned out.  thankful to be done with the hardest parts.
i am also thankful for my husband who didn't have a conniption fit when i told him that i really thought the walls needed another coat of paint even thought we bought the expensive paint that promised it would cover in one.  thankful for a husband who rehung one cabinet door four times so that it would line up just right.  thankful for my daughter who put up with all my distractedness last week.  thankful for tripp's mom who brought game day food when i totally dropped the ball.  thankful that my parents didn't get bent out of shape over how much i neglected them last week.
finally, i'm thankful for you for all the kind words of encouragement.  for letting me share my experience – the good, the bad, and the ugly.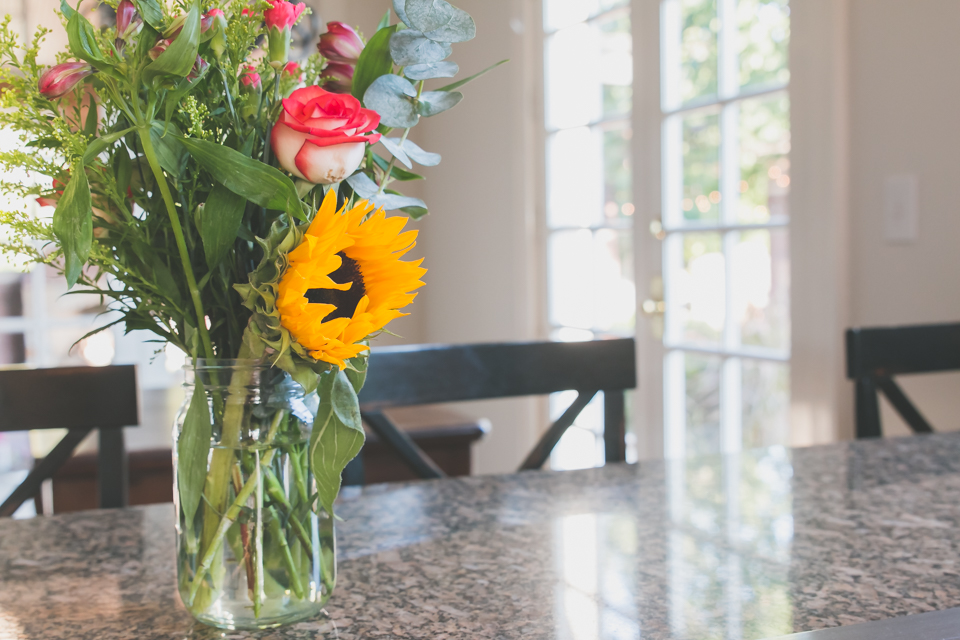 love, kelly