hello friends. happy wednesday. or rather, happy halloween. (although i never feel as though that's a proper greeting.)
as i write this blog post, i am riding out the attack of the zombies upstairs in the safety of my bedroom with my dogs close by. our candy ran out about 10 minutes ago – it lasted a whole two hours which is surprising by even my standards.
it might have lasted longer if the PARENTS (!!) of the kids would not have been trick-or-treating as well. seriously, never seen so many parents with grocery store sacks, pillow cases, and pumpkin buckets. i realize you didn't ask my opinion, but here goes – if you are old enough to drive yourself to the mini-mart to buy candy, you should not be trick-or-treating.
there you have it…the gospel according to kelly.

so what i should be doing is getting my blog post ready for tomorrow's One Little Word blog hop, but instead i am enjoying a glass of wine (an especially delightful Laura Zahtila old vine zin) and watching Modern Family and Suburgatory. in terms of enjoyment i 'landed in the tall grass'. (thank you dahlia for that little nugget of wisdom.)
anyway, today my friend carrie posted some old pics of her kids from halloweens past on instagram. it made me a little nostalgic (such a slippery slope) and so i felt compelled to drag out the scrapbooks. here's a little gem from 1995.
this my friends is what it look likes when bad scrapbooking happens to good people. it appears that i may have gotten a little carried away with the scalloped scissors. but will you look at that face? and that tail. omg, i think my heart just melted a little.
here's another good one from halloween 2000.
and finally a priceless page from 2001.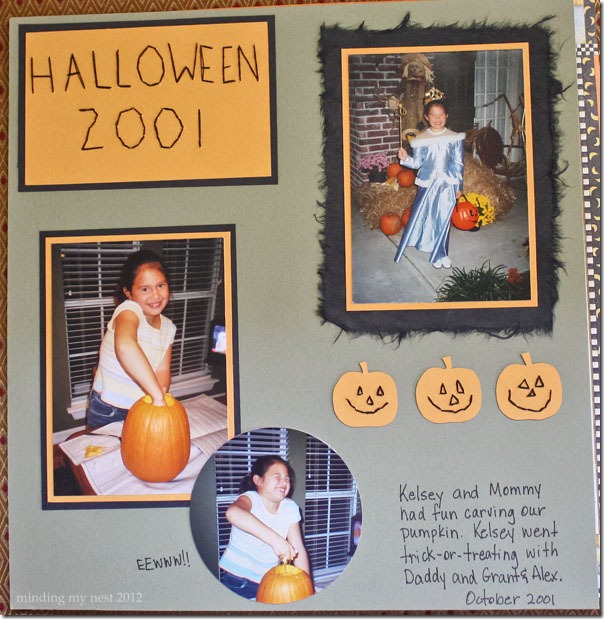 yes i handstitched the title and pumpkins. and yes i had way too much time on my hands.
question…does it seem weird to anyone else that 2001 is more than 10 years ago?
i swear i don't know where the time goes….one minute i'm painting whiskers on my toddlers face and the next minute she's a sophomore in college. sigh. probably the wine talking, but man….
this is what it looks like when good wine happens to nostalgic moms.

so with that i think i'll wrap it up for this wednesday. my new favorite show Nashville is getting ready to come on and i'm about to start drooling over connie britton's hair. plus might go see if tripp held back any more peanut butter snickers.
thank you october.
peace, kelly