Hi friends. Happy Monday! Hope you had a great weekend.
Before I get started on this blog post, just a word of warning…our handyman stained the hardwood floors in our bedroom today and the fumes are starting to get to me. So if I start to ramble on and stop making sense (and yes, before you ask, I do realize that might be difficult detect given the random nature of my blog sometimes), that's why.

So let me see…where did I leave off…I think I told you about the ceiling already. And all went well with the new sheetrock. And then so the next thing to go was the nasty, old carpet in our bedroom and upstairs landing. We were so happy to find that the wood floor underneath was in good condition – no major water damages or stains. Awesome!
Next came the process of sanding the floor which revealed these gorgeous oak planks hidden under years of varnish.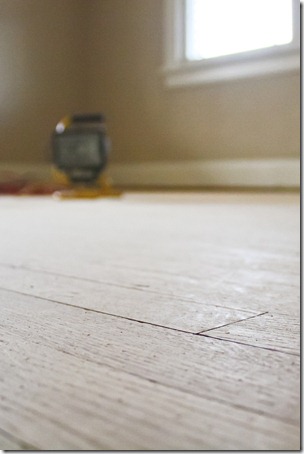 I nearly cried when I saw it for the first time.
And also when I saw this.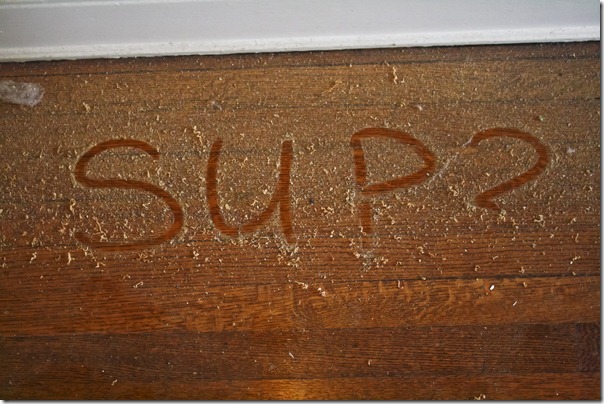 Yes, this is dust from the floors that has settled all over my downstairs.
Oh, and p.s…SUP is short for WASSUP. Which is slang for What's up?
I know this because I'm cool like that.
Or because I have a daughter in college who starts nearly every text with this. Take your pick.

So anyway, my house is a complete disaster area (what else is new).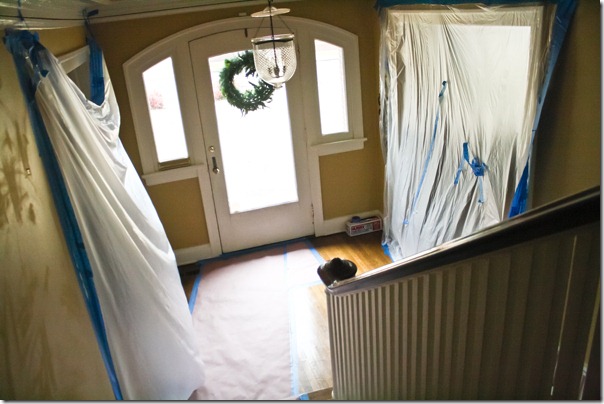 But thankfully things are moving along. Last week Tripp got the ceiling primed.
And then we spent the rest of the weekend painting the walls, ceiling, and trim. For the walls and ceiling we went with this warm tan color by Behr, Harvest Brown (710D-4) and I'm really pleased with the color.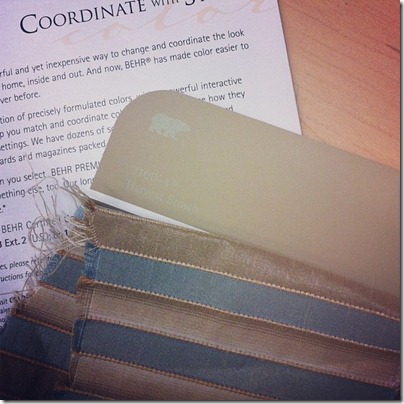 And we were able to get that knocked out on Saturday. Then Sunday after church we tackled the crown moulding and windows. My beloved decided to get into the photo-documenting action and took these photos of me.
Oh and real quick – that green tape? Frog Tape I think it's called. Man! It is the bomb.com.
Totally having an OC Housewife moment there. Sorry. Must be the fumes.

Anyway I used to get so pissed off after spending so much time trying to get that shitty blue tape just perfect and then pull it off only to find out it bled all over the place.
Oh jeez – there's the contractor mouth again.
But seriously, that green tape works awesome!!
Oh and here's another shot of me working my patented window painting technique. As you can tell I'm having loads of fun.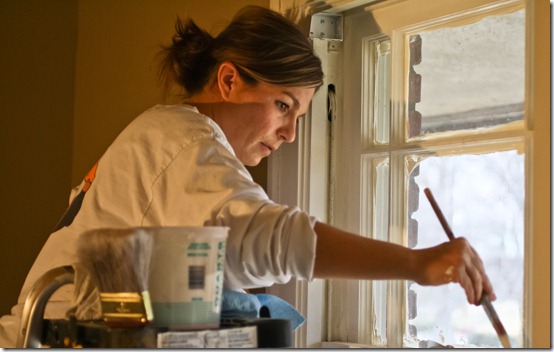 Finally Sunday afternoon we got everything finished but the windows, baseboards, and fireplace. And I have to say that I'm really happy with how things are coming along.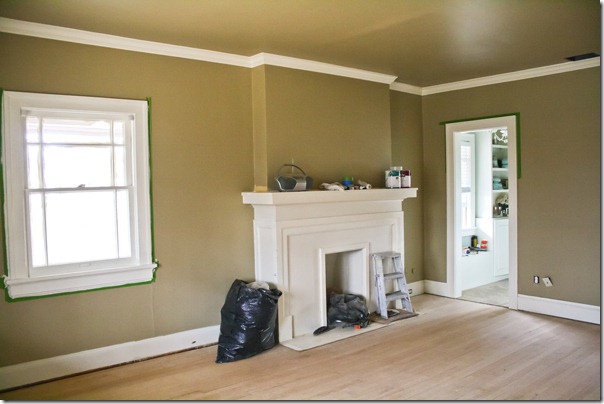 So I guess I could wrap this blog post up here and say that was that.
But then you'd be missing out on all the real fun that happened later that evening.
So here's the thing – I don't know what it is, but whenever my house is totally womperjawed and discombobulated like this, I get a little….shall we say… 'edgy'. (Some might say 'bat-shit crazy' but hey – who am I am to split hairs?). And it's not as if I'm the world's greatest housekeeper either. But it's just so frustrating to have every surface of my house coated with dust and shit taped off everywhere and furniture piled up all over the house.
To top it off, we have to keep the pets contained in the kitchen and basement to keep them out of the handyman's hair while he's working on the floor. Which has been AWESOME. And so last week while it was so cold I had to keep the dogs and the cat in the basement. But the only problem with that, is the cat litter box is also in the basement. Which means the dogs are left unattended with the all-you-can-eat cat shit buffet. And I really try to keep up the with litter box, but sometimes…well you know. On the list of priorities the cat litter box is rarely in the top five.
But what's worse…if the effing dogs just ate the cat shit that'd one thing. But with the new clumping litter I've been using, sometimes in their haste to quickly get in and get out (because they know they're not supposed to get in the litter box. And I mean for God's sake who doesn't know that eating cat shit is bad?) they sometimes grab a clump of hardened cat piss instead. Guess it's hard to tell the difference??? And such a bummer, right, when all you really want is the turd. So they scamper from the litter box and leave the clumps-o-cat-piss right there on the rug. And now all week long we've picking up dried cat piss clumps off the rug.
I'd just like to add here that I'll totally understand if you decide to unsubscribe to my blog.
Well so last night after I had done about four loads of laundry and baked a batch of chocolate chip cookies and made Tripp's effing stuffed peppers that he requested (which I hate by the way) I looked around at the kitchen and…I don't know… something snapped. I called downstairs in the basement where Tripp was sitting "watching golf" (which is code for taking a nap) and asked him if he would come upstairs and help me clean up the kitchen a little. So he comes up and takes a look around and says to me –
…prepare yourself…
'Dear, I don't recall making this mess.'
God help me.
I'll spare you the details of the conniption fit that ensued, but let's just say the evening ended with this.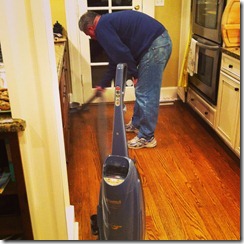 And so with that friends, I think I'm going to wrap up this blog post. Probably oughtta go clean that litter box anyway.
Peace, Kelly