It's the littlest things that make me happy these days.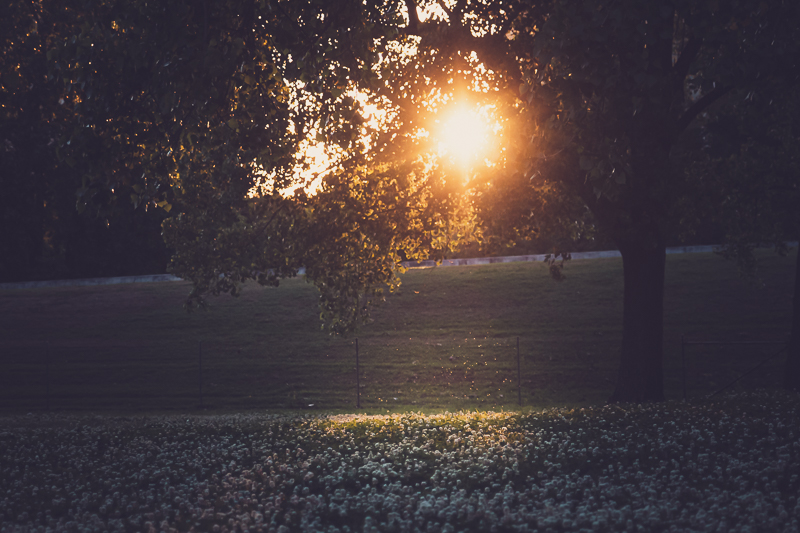 Like when I stumbled upon this small pool of light on my evening walk. I just stood there and smiled as I watched those teeny little bugs as they danced like tiny fairies in the golden glow of the setting sun.
It was a bright spot in my day in every sense of the word.
With life feeling so dark and so heavy, it's easy to miss moments like this. It requires A LOT more effort on my part. Thankfully, my camera and years of photography practice help me 'see' magic moments like this. And for that, I am eternally grateful.
I thought about this as I walked home. How witnessing the littlest bit of sunshine transformed my whole day and lifted my spirits.
When the problems of the world feel so big and insurmountable, I have a tendency to get overwhelmed and retreat from life. Feeling like nothing I could offer would ever be enough to make a difference, I just want to throw my hands up in defeat.
In my overthinking (as well as my special talent for making things harder than they need to be), I forget that I don't have to have all the answers or fix it all. Rather, all I really need to do is offer my heart and whatever it has to give at any given moment.
"From within or from behind, a light shines through us upon things, and makes us aware that we are nothing, but the light is all."

– Ralph Waldo Emerson
And so today, I am here to share with you the magical moment from my walk. A little light and love in hopes that my photo and my words might encourage or comfort you wherever you are in this hurting world. It also comes with a little nudge to find a way to bring a little sunshine to someone else's life. And don't tell me that you don't have anything to offer, because you do. And don't worry if it doesn't feel like enough, because it is.
A little light. A little hope. That's all it takes. Because a little goes a long way.
Love, Kelly