You're a grand old flag,
You're a high flying flag
And forever in peace may you wave.
You're the emblem of
The land I love.
The home of the free and the brave.
Ev'ry heart beats true
'neath the Red, White and Blue,
Where there's never a boast or brag.
Should auld acquaintance be forgot,
Keep your eye on the grand old flag.
A few weeks ago, one of the neighborhood boy scouts came to the house selling subscriptions to their 'Flag Placement Service.' By participating in this program, a team from their troop would come and bury a sleeve in our yard, then they would place a flag for five holidays throughout the year:
Memorial Day
Flag Day
Independence Day
Labor Day
Veterans' Day
Tripp and I were quick to sign up for this service…it just happens that we had been looking at flags to install on our front porch…something we've been wanting to do for a while. Also, part of displaying the US Flag in your yard is abiding by the rules of flag etiquette. And so every evening, Tripp brings our flag inside and then sets it up every morning when he goes out to get the paper.
Everyone in our neighborhood has participated in this program and so driving down my street each day, it sort of puts a lump in my throat to see so many flags…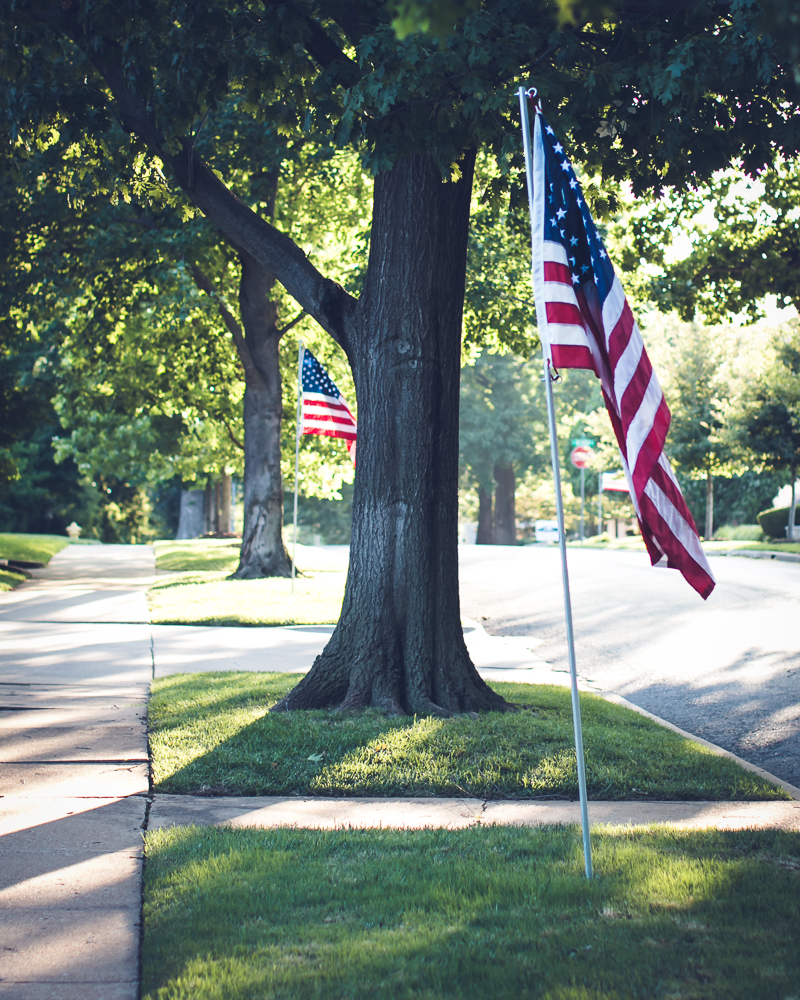 ..the emblem of the land I love.
Tripp and I are proud to fly this flag in our yard to honor our family members who have served in the Armed Forces, as well as to show our appreciation to all those who are currently serving our country.  And we also fly this flag because, despite the challenges our country faces, we are proud to be Americans.
Happy 4th of July friends!