At the beginning of this year, in hopes of continuing to improve my photography, I started looking into some on-line classes/ecourses/workshops (whatever you want to call them). I decided on this 12 week Art of Composition class by Tracey Clark and the BeyondBeyond workshop with Kim Klassen…both of whom are contributors at Shutter Sisters and both of whose work I admire greatly.
Well so my AOC composition is about to wind up and I have thoroughly enjoyed it. And I do feel as though it has made a big improvement in my overall approach to composition. The BeyondBeyond ecourse is a year-long workshop. And each week, Kim provides us with some inspiration in combination with a prompt and some Photoshop and/or Lightroom tips and techniques. As you can tell, they are two different types of classes, but each has been very beneficial to me in its own way.
So anyway, a few weeks ago, I experienced a case of ecourse synchronicity whereby both classes shared a lesson in basically the same concept. The exercises for both classes that week was to create an arrangement of a collection of items and photograph it. Which it doesn't sound like that would be all that hard, but given my special talents for 1) over thinking things and 2) making things harder than they need to be, it took a little bit a lot of practice to get it right.
The thing is…I guess if I had to classify myself, I would say I am mostly a nature photographer. I love taking pictures of sunsets, and flowers, and plants/trees/etc in and around my neighborhood. And so what normally happens is that I'll see something that catches my eye – like maybe the way the light is hitting a flower or a brilliant color or shape – and I'll think to myself, 'oooohhh! that's so pretty. i should take a picture of it!'
But you know, the sun is going to the do the sun's thing. The flowers aren't going to move. So if I want to get a certain type of shot, then I have to do the adjusting. I have to work with what's given to me. So I'll grab my camera and take a few shots…check the image on the back of my camera…maybe I'll move around a little to change the composition or capture the light differently…snap a few more shots. And then eventually, after doing this for a bit, I will have positioned myself or the camera and I'll get a shot and then…magic. I'll look at the back of the camera and think, 'yes…that's the one.'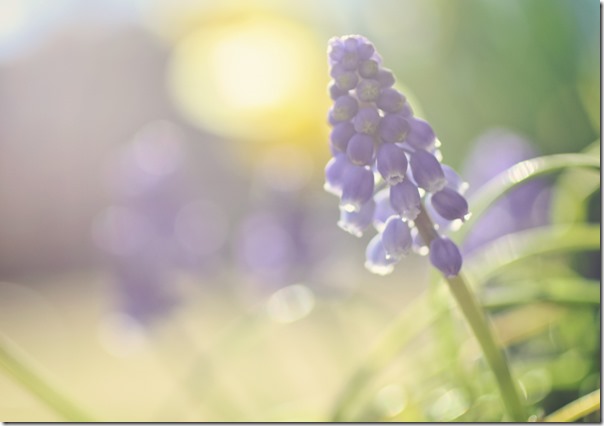 I think that's why the idea of creating an arrangement is so hard for me. I am in charge of creating the subject matter of the photograph (which I know always am, but you know what I mean) and the physical arrangement, and I don't know… it just feels so intimidating. Maybe it's because I've always believed that nature is God's artwork and that I'm just lucky enough (or smart enough) to recognize it. And He does a better job of it than I ever could, so it would just be silly to try. Which now that I have just typed that sounds utterly ridiculous. I mean who could compete with that? Because good Lord, if I'm comparing myself to the Creator well that's just setting myself up for failure.
Hello my name is Kelly and I am an overthinker.
So yeah, creating a little arrangement did not come easy. To say the least.
I guess I should add here that if you are not familiar with Kim Klassen, she just makes the loveliest images – sweet little shots with tea and coffee cups and or books or flowers. So soft and light and dreamy. I wouldn't say they are my style exactly, but there is a simplicity to them that I find so appealing. Not overwrought or overanalyzed. Just simple things with beautiful light and her beautiful textures. Just stunning. Definitely something I could stand to learn from.
So with Kim's style in mind, I went to Pier 1 and found a sweet little bunny with such a cute shape and some pastel Easter eggs. Then at my florist I bought a little nest for five bucks. And so I brought them home and set them up in my guest room upstairs. And played with the arrangement about a million different ways and shot it from about a million different angles until finally…magic. After I got the shot I wanted I brought it into Photoshop and played around with a bit with the processing and texture. And when it finally came together I just about cried. Honestly. And I know that sounds so dumb, but I was like, 'I made this.'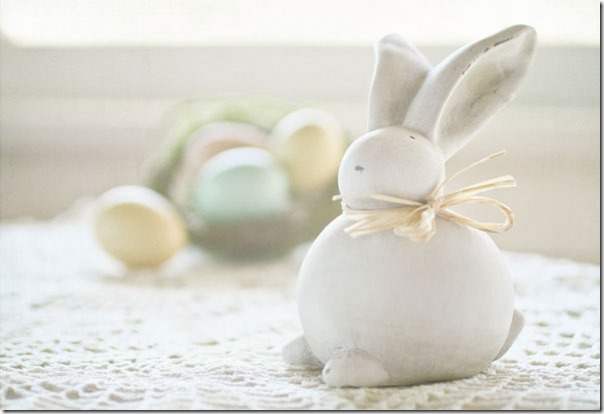 i. made. this.
And now a month later, I am completely obsessed.

All joking aside though…I think about my life and how so often I just react to circumstances or position myself around to capture the beauty that already exists. Which there is nothing wrong with that at all I don't think. But this idea…that I can go out and find things. I can make things. I can create my own magic…
I don't know…for some reason this just feels huge to me. And I don't just mean with how it pertains to photography. I don't really even have the words to properly express it. But I'm looking forward to putting into practice.
As always, photography teaches me something about life and about myself. Thanks for letting me share it with you. Love, Kelly