the following is a list of things that are currently boggling my mind:
the concept of time-travel, wormholes, and black holes (oh my!) in the movie interstellar
how matthew mcconaughey seems to get more attractive as he gets older
that yesterday morning we had the air conditioner on and today is barely above freezing.
that i shopped and cooked for three days getting ready for thanksgiving and i had nothing in my refrigerator to cook for dinner tonight
that today is december 1st
surprisingly, the anxiety that usually occupies the pit in my stomach this time of year is not present.  i am not fretting about my shopping list or the pile of junk on my dining room table.  i'm almost afraid to say it out loud, but i am *big deep breath* yes, looking forward to the month of december.
this december marks the final month in my second year of a photography 365 project. and in my desire to 1) capture the joy and wonder of the holidays and 2) finish my 365 on a strong note, i thought i would create for myself a december photo prompt sheet.  so i began jotting down ideas in my trusty notebook.  because you know how i love to write things down.  and i think it's also a good to have these kinds of intentions around, out where i can see it.  a visual reminder of what i would like to capture.
once i got my list together, i thought that it might be nice to share it here.  and please, i know there are a zillion december photo prompts already out there – i looked.  but so many of them just didn't really speak to me.  there's something for everyone and if this looks like something you might like, i have created a PDF version that you can download and print at home.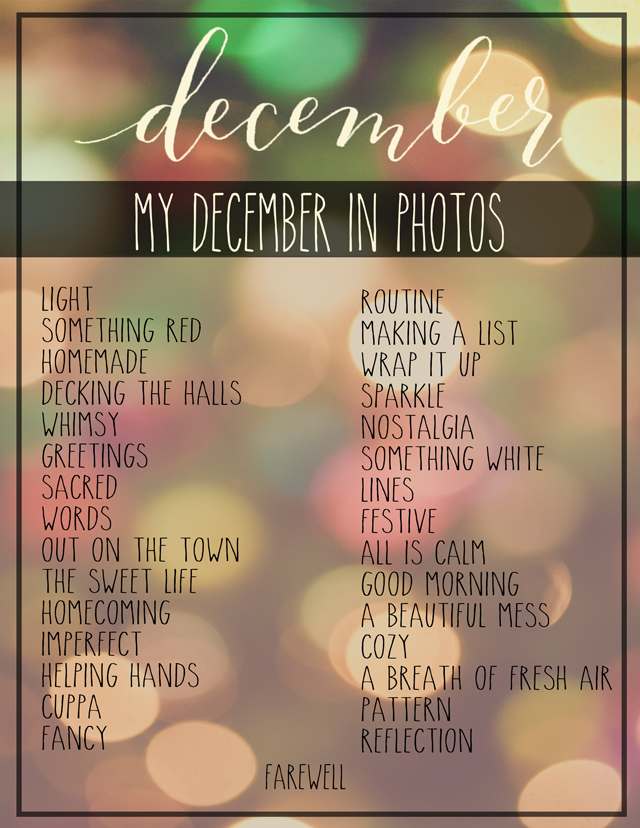 as you can tell, i did mine a little differently…there are no dates.  that's because i like to keep things flexible.  i mean what if on december 14th i don't feel like taking a picture of my coffee cup right?  a girl needs options.  and so i created a photo prompt for myself that actually works for me.
so let the twinkle lights, christmas music, and holiday movies radio commence.  my hope for this december is to capture the joy and wonder of it all.