it's official you guys!  summer is here!
if you happen to follow me on instagram, you know how much i love my friday night cocktails.  and for me, summer and fun cocktails just go together.  sitting outside, sipping on a cold drink….what better way to celebrate the season.
today i thought i would share with you a delicious cocktail that i made a couple of weeks ago.  it was inspired by this drink i saw in southern living which looked equally as delicious.  but i happened to have a ripe mango so i thought, 'hey…i wonder if this would be good with mango instead of pineapple?'
oh and it was so very good.  and here's all you need to make it.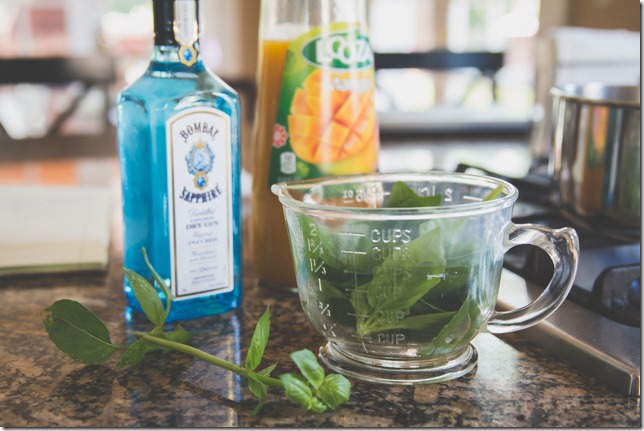 this cocktail starts out with a basil infused simple syrup.  i know it sounds really weird.  but trust me on this.  it's all about the infused simple syrups right now.  plus the basil adds a freshness to the drink that is just so delightful.  i promise…it's good!
mango-basil simple syrup
1 cup mango juice
1 cup sugar
1 cup water
a few springs of fresh basil
combine the mango juice, sugar, and water in saucepan and bring it to a boil.  then remove from the heat and add the basil leaves and stems.  let the mixture steep for ten minutes or so, then strain the mixture into a jar and let cool.  meanwhile assemble the rest of the ingredients for the cocktail – gin, freshly-squeeze lemon juice, cold club soda.
to make the cocktail, first rim the glasses with a cut lemon then dip them in sugar.  then into a cocktail shaker full of ice add the following.
1 cup mango-basil simple syrup
1/2 to 3/4 cup gin (depending on how boozy you like your drink)
1/4 cup freshly squeezed lemon juice
divide the mixture between two glasses, add ice, and top it off with cold club soda.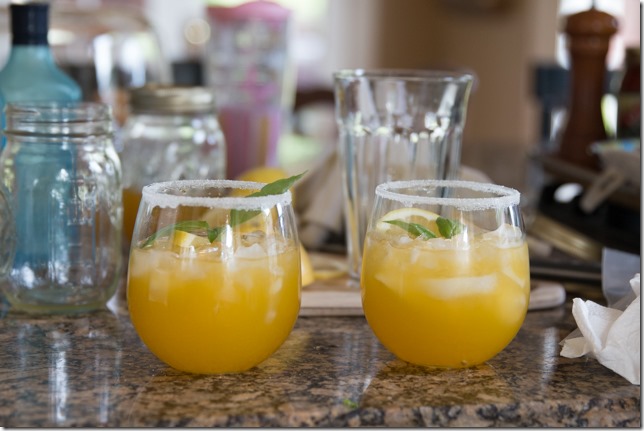 finally, garnish your beautiful cocktail with a lemon wedge and a spring of basil.  i really like this bit of lemon at the end too because the mango can be kind of rich.   and the extra acid at the end really brightens up the whole drink.
and oh my goodness…this is summer in glass.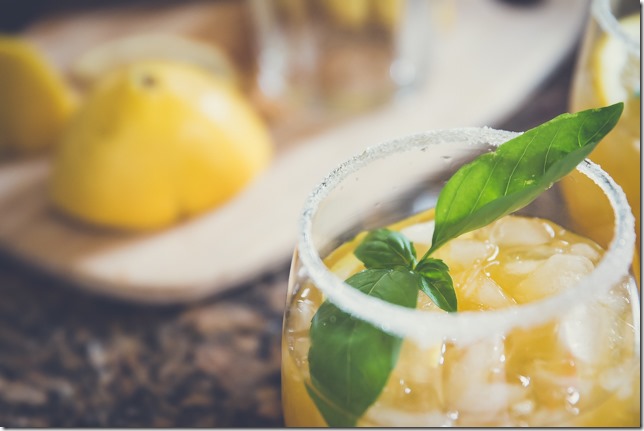 so cheers to summer my friends!  enjoy!!