so have you guys tried those new 'refreshers' at starbucks?  kelsey and i love them.  perfect for summer – light and icy cold.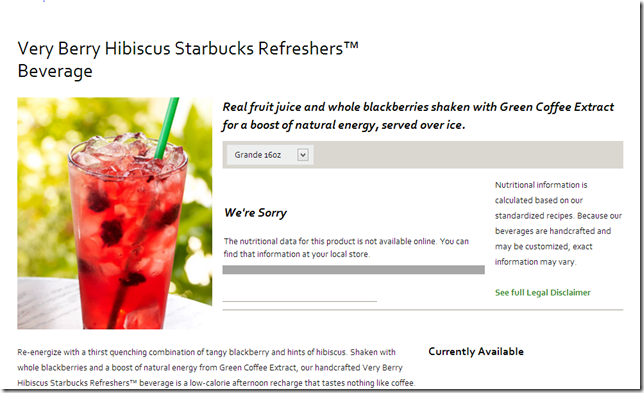 i had a major hankering for one afternoon this past weekend.  and i thought about heading up to our neighborhood starbucks to get one.  but that would have required that i be presentable and considering that i hadn't changed out of my running clothes yet, well…i wasn't fit to be seen in public.
plus the fact that the large size is like $4! sheesh!
anyway, so i decided to do see about making one and home, and dangit if i didn't come up with something that was pretty darn close and pretty darn yummy. it all starts with this yummy hibiscus tazo tea that i picked up at target the last time i was there.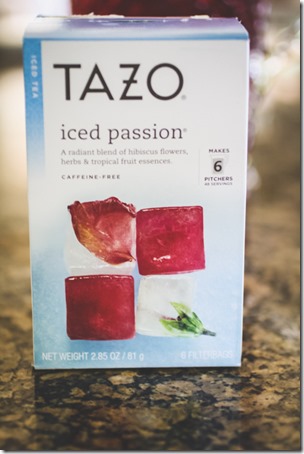 so i brewed one packet according to package directions.  then i gathered some blackberries that i had left over from the farmers' market, a lemon, and some simple syrup.
so the first thing i did was add a little bit of ice in the bottom of my cocktail shaker and then put in a slice of lemon, a few blackberries, and about one tablespoon of simple syrup.  then i shook the tar out of it.
all that was left was to strain that into my glass (which was filled with ice) and then fill it up with the tea.  oh and i also added just a splash of club soda too….there's just something about a cold, fizzy drink in the summer.
anyway,  i went to the effort of garnishing it and taking a beauty shot for you guys, but don't feel like you have to be an overachiever like me.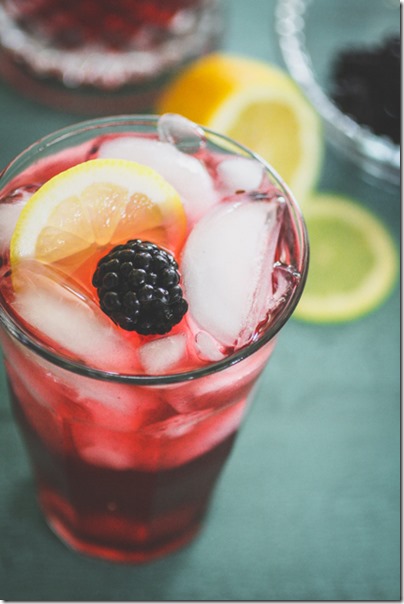 so on that particular day all i had was a lemon, but i made it yesterday with a lime and it was equally delicious.  and also you can adjust the sweetness of this tea to your own taste…i just was looking for something really low-cal.
also…i have not tried it yet, but have been pondering the augmentation of this delightful beverage with a little booze…maybe vodka or rum??  i'll keep you posted!
so that's it. hope you like it!
love,kelly