So, on the last day of our trip to Cabo, the boys suggested that we take a little adventure. The day before they had been talking to one of the other hotel guests about the town of Todos Santos about an hour away on the Pacific side of the Baja Peninsula.
Woohooo!! Road trip!
I love adventure in case you hadn't noticed.
The thing is, driving in Mexico is not for sissies! Optional (or so it seemed) stop signs and hit or miss (literally) lane markers, not to mention all the street signs are in Spanish (naturally) – it all makes for interesting driving. Poor Bryan, whether it's the city streets of Dallas or the roads of Mexico, driving around with Carrie and me in the backseat asking him a million times to change the radio station must be his cross to bear.
Anyway, the drive to Todos Santos was extraordinary. Majestic mountains in the background and fields of cacti as far as you could see. So incredible and unlike anything this Okie gal has ever seen.
The town of Todos Santos itself was quite quaint and looked exactly the way I pictured it in my mind. Complete with roadside food stands.
Once we got into town we drove around until we came to our destination –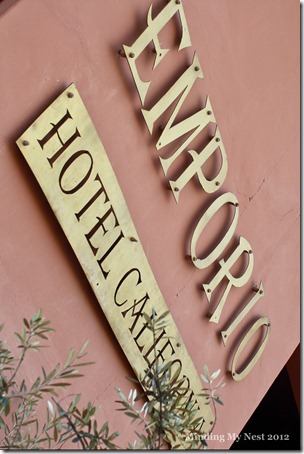 That's right…we came all this way to go to THE Hotel California which as urban legend has it, is the inspiration behind the classic Eagles' song of the same name. A quick Google search revealed that this hotel is not the actual inspiration for the song, but nevertheless, the hotel certainly has a funky, cool vibe perfect for rock stars and Okies alike.
After buying yet another round of souvenir t-shirts, we decided that it was our duty to sample the chips and margaritas here as well.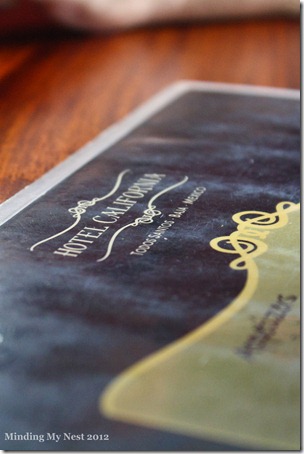 Really, it's all for you friends.

I am happy to report that they serve beer that is just as frio and margaritas that are just as delicioso as on the other side of the peninsula. In case you need to know.
After a little walkabout…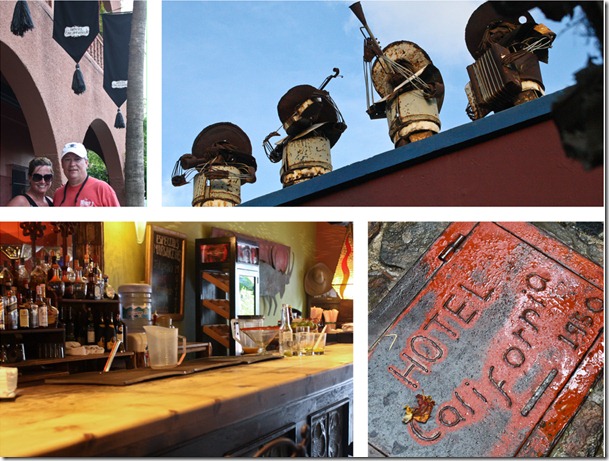 …and since it was getting late in the afternoon, we decided to head back. Driving in Mexico was scary enough in daylight. This time Tripp however let me sit up front so I could take pictures!
Please allow me to share with you the series that I shall call 'Baja Skies'.
A couple of times I swear I saw Bryan glance back at Tripp with a look asking, "Is she going to do this the whole way back?"
As we drove along, the light was sooooo beautiful. Plus I was dying to get up-close and personal with one of the cacti I had been seeing alongside the highway. So finally I asked Bryan if at the next turnoff he would mind to stop so I could get out and take some pictures.
Now Bryan, being unaware of #1) my obsession with taking pictures and #2) my obsession with the golden hour, once again looked back towards Tripp in his rearview mirror as if to say, "Dude, is she serious?" In silent response, my darling husband just shook his head, "Dude, you have no idea."
So finally after a bit, Bryan pulled over and I finally got to see a cactus close-up.
And not only that, but I also got photos of an aloe vera, some palm tree looking bush, and an amazing orange flower.
During my golden hour photo shoot, Bryan and Carrie were also treated to what my family lovingly calls my "camera face."
We did finally make it back to our hotel that night in case you were worried. lol But I have to say, this little adventure was so great. And I guess, at the end of the day, what I felt was immense gratitude for the stunning natural beauty of this planet. Beauty that moves touches every part of my soul and inspires me in so many ways. I am also grateful for friends who enjoy exploring this world as much as I do. And last but not least, a husband to share these wonderful memories with.
So much gratitude.
Kelly