Hello friends.  Welcome to the September edition of the One Little Word blog hop.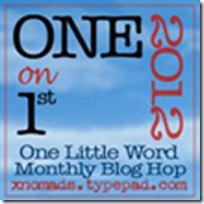 If you've arrived her from Carolina's blog then you're in the right spot.  If not, I've included a full list of blog participants at the bottom.
Wow.  Can you believe it's September 1st?  As summer is unofficially winding down, I am taking this opportunity to take a giant exhale.  And with everything going on this month I certainly appreciated this month's simple assignment.
Even though this past month I wasn't doing a lot of class work, my word TRY was still working overtime in the background.  Without knowing it at the time, I chose a word that for a perfectionist, overachiever such as myself, carries with it the risk of overkill.  And so what happens is that sometimes my inner voice is less of a supportive cheerleader and more an evil taskmaster shouting, "Do More!  Try Harder! Be Better!"
Jillian Michaels has nothing on this gal.  LOL
I think what I've learned this month is that while it's fine to push oneself, to try new things, to grow and learn, it's also important to accept oneself.  And like I shared in a recent post, I don't mean accept in an apathetic "it is what it is" kind of way.  What I mean is accept as in receive.  Embrace.
So that's what this month has been for me.  Learning to accept myself.  Embrace my imperfections.
As I look forward to next month (and beyond really) whatever I TRY, wherever and however I grow, it's going to be tempered with this acceptance and self-compassion.
Thank you so much for stopping by today.  Next on the blog hop you should be directed to Cindy at http://seriousplay.typepad.com
Happy September everyone.
Peace, Kelly