i am so happy to tell you that my parents are moving back to town! they closed on their new place today and saturday the movers are coming. it's going to be so wonderful to have them close by!
anyway, my dad was able to transfer with his company here. and since they wanted him to start before he and my mom closed on their new place, my dad ended up staying with us for a couple of weeks.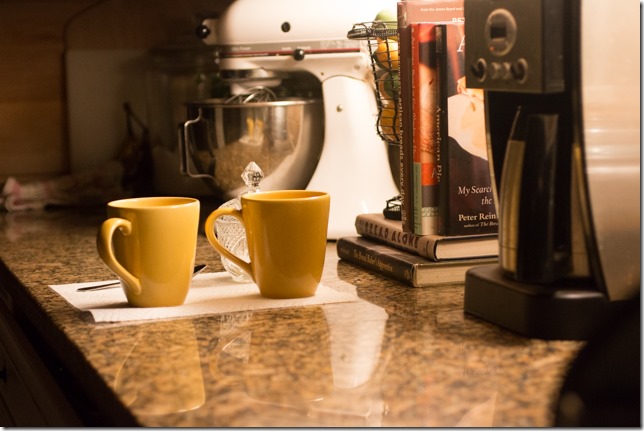 i was trying to remember…and you know, i don't recall in my adult years ever spending this much one on one time with my dad. but can i tell you…it was really wonderful. i loved having his company in the afternoons. i loved drinking coffee with him in the morning. we even went out to dinner last night, just the two of us.
i tried, but i couldn't get him to take a selfie with me. but i thought our first time out to dinner just the two of us deserved a photograph.
so i thought in honor of these two weeks, i would share with you ten things about my dad:
my dad grew up in festus, missouri and attended the sacred heart school.
he and his best friend, warren, were alter boys at sacred heart parish who knew absolutely nothing about why there was never any leftover, unconsecrated wine after mass.
his favorite baseball team is the st. louis cardinals. naturally.
growing up, his favorite baseball player was 'stan the man' musial and so therefore, when given the choice for his jersey, he chose number 6.
as a young boy, his dad took him to the barber shop where he sat on a booster in the porcelain white and chrome barber chairs. he fondly recalls how the barbers all wore black ties and white coats.
sometimes on saturday afternoons, his dad would take him 'bumming' and the two of them would go to the local tavern. my grandpa would get a beer and tell the bartender, 'give this young man a coke'.
my dad has driven more miles backwards than i have forwards.
my dad likes his coffee black, with two sugars.
my dad is not fond of technology. he would rather give directions than rely on a gps. when given the choice he prefers to talk to a 'real person' versus an automated phone system. he is often nostalgic for the days before computers and smart phones.
my dad is one the hardest working people i know. he is a man of character and honor. and he is a wonderful father to his slighty wacky, overly-sensitive, daughter.
i love you daddy. i'm so happy to have you and mom back in my neck of the woods.
love, kelly