Welcome to Week 15 of my Pinspiration series!

This week is all about getting organized, and in terms of usefulness, this installment might be the most/best practical application of Pinterest ever! (Or at least according to my husband.)
There are a plethora of organization ideas available on Pinterest and I recently pinned this little gem from realsimple.com.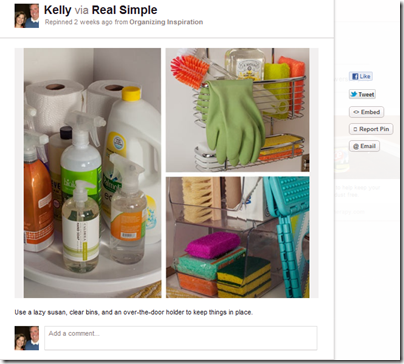 Which then led me to create an entire board of ideas for getting organized. So in the spirit of doing a little Spring cleaning in my kitchen, I decided to tackle the disaster area under my kitchen sink.
I don't know about you, but I hate digging around under the sink. It always a little damp and smelly. Plus it seems like there is always a little can or bottle leaking something sticky. And then there is my irrational fear of bugs that stems from a little issue we had with roaches about five years ago. (I should probably either have been medicated or hospitalized that summer…seriously mental!!) Anyway, the bottom line is that it's just gross.
But after seeing the organization possibilities from Pinterest, I decided to put on my big-girl panties and tackle this maelstrom of household cleaners and supplies. The first thing I did was take out everything under the sink (I'll spare you the photos of leaky bottles and rodent killer) and then wash it down with a hot, soapy water/Clorox Cleanup combo.
In my opinion, there is one fundamental design flaw that contributes to the overall lack of functionality in the under-sink area. Let me direct your attention to the the maze of PVC under my sink making any real allocation of space nearly impossible.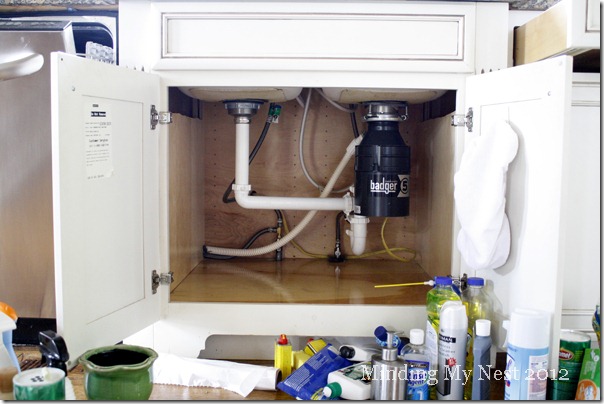 But I decided to give organization a chance, so I took a few measurements then headed out to my local Home Depot. Although I was seriously UNDERWHELMED by the selection, I managed to find a few things that I thought might at least improve my under-sink organization.
The bonus…it required the use of power tools! I ain't skeered!
So to start with, I installed this pull-out cabinet organizer.
Because the garbage disposal pipe hangs down so far, the only place where I could install it was on the left-hand side. Thankfully the basket just fit under the PVC drain.
Next, I was unable to find an over-the-door organizer so I decided to install this wire spice rack on the inside of the right cupboard door. Before I actually started setting the screws, I made sure that they wouldn't penetrate through to the front side of the cabinet.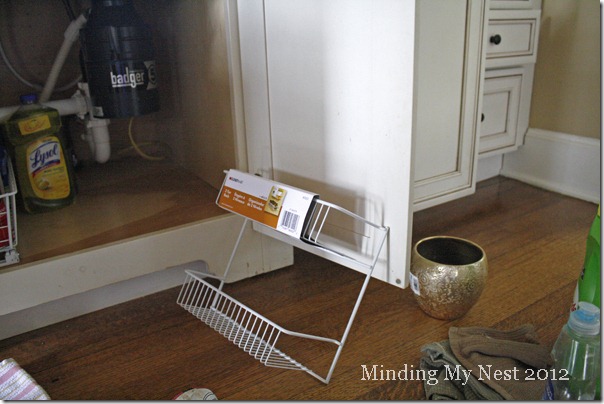 Then because I wanted the basket to hold the junk that normally sits around my sink, I set the basket low enough on the cupboard door to accommodate my industrial size bottle of dish soap.
Why yes I do have my very own level, don't you?
Anyway, with those two organizers installed, my next task was this nifty, tension-rod for hanging spray-bottles.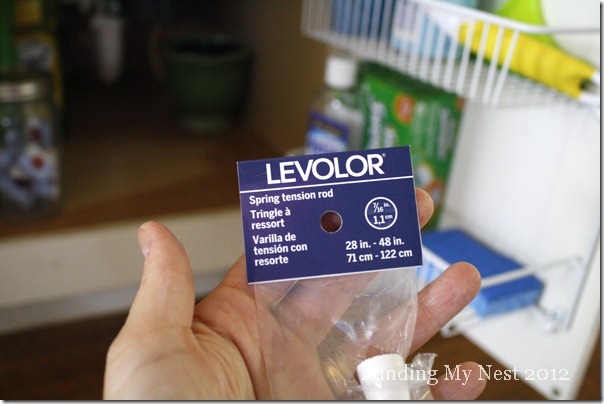 So are you ready to see the final product!?
Please notice the second tension rod on which I hung roll 147 of my 562 rolls of school-fundraiser-trash bags. It's like a giant, toilet-paper dispenser!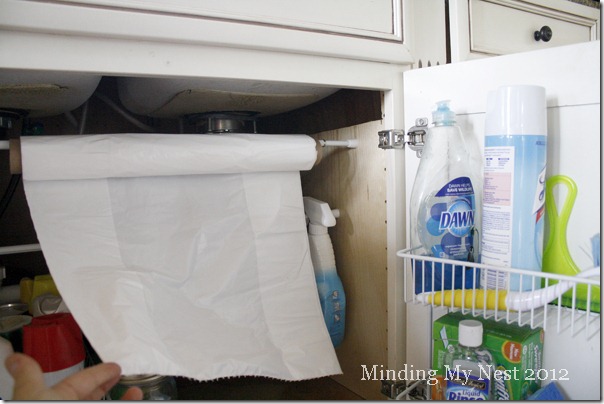 Please don't leave me any comments telling me that my roll is hung upside down.

I am super happy with how my little organizing project turned out! All it took was an hour of time and about $30 in supplies.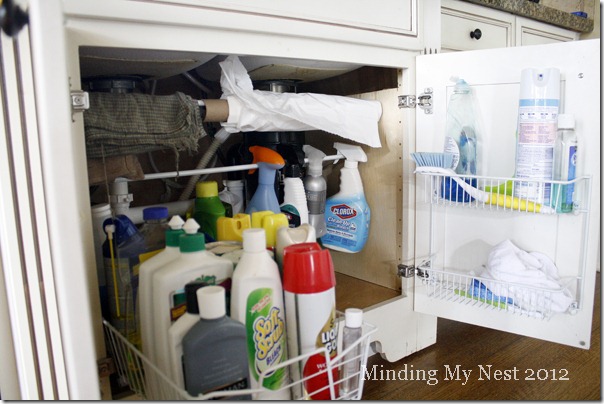 Hopefully this post will convince any naysayers out there that Pinterest is more than just crock-pot recipes, craft ideas, and beautiful photos.
Pinterest actually makes life a little easier! How cool is that!
Peace, Kelly