Hello friends. Welcome to week 48 of my Pinspiration series.

Before I get started, I think it's only fair that I tell you.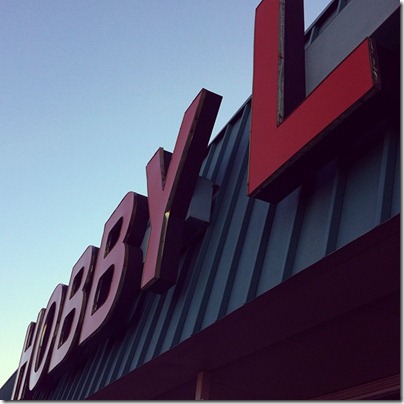 I think I may have a problem. But ssshhhhh….don't tell my husband.
Wonder if there's a twelve step program for craft junkies.

So I am happy to report that with regards to deco-mesh wreaths – truly the third time appears to the be the charm. After the first try which was fun to make but that didn't turn out at all like I had expect. And the second which was closer, but still not quite what I wanted. This time I think I may have finally made a deco-mesh wreath that I can be proud of.
For my Christmas version of the ever-popular, deco-mesh wreath I started out with a run-of-the-mill, evergreen wreath. (hyphen much??)
I have about six of these down in my basement. Once again….yes I know I have a problem.

Anyway, for this wreath I bought one of the wide rolls of mesh, two rolls of contrasting wire-edge ribbon, and an assortment of (technical term here) doodads.
I started by taken the end of the ribbon and bunching it together in my hand.
Then using one of the tips of the wreath, I twisted it around the mesh.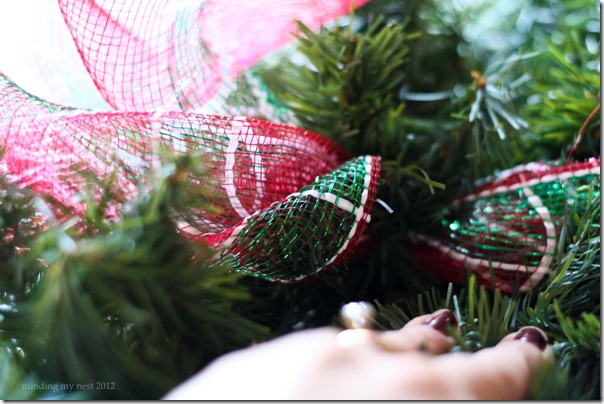 Sorry you cant really see it here. If I had a macro lens I could get in a lot closer.
***cough, cough. santa. hint, hint***
So basically what I did was go around the outside portion of the wreath, bunching sections that were approximately12 inches long, and twisting them onto the wreath.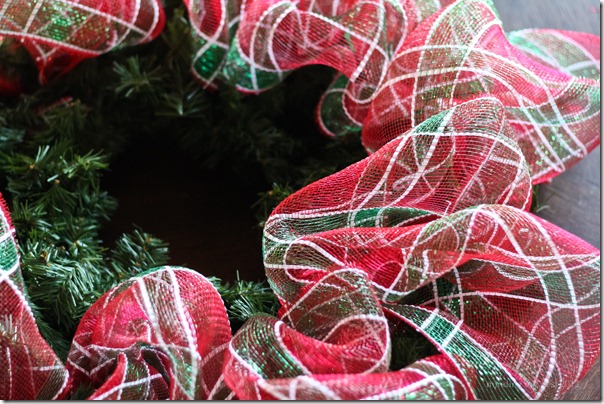 Then I did the same thing around the inside of the wreath finishing off the entire roll of mesh.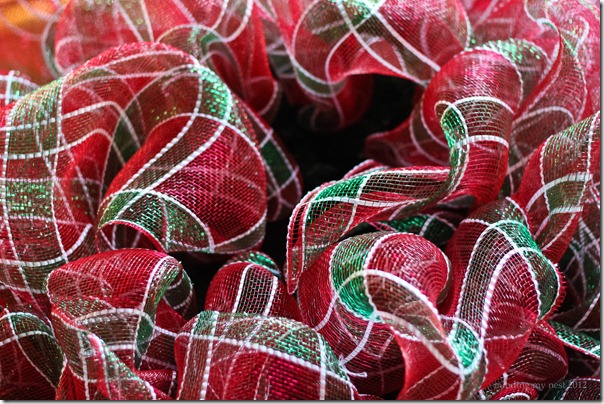 The final steps were to add the two colors of ribbon and the various embellishments. Super easy twisting them onto the wreath!
Here is the final product.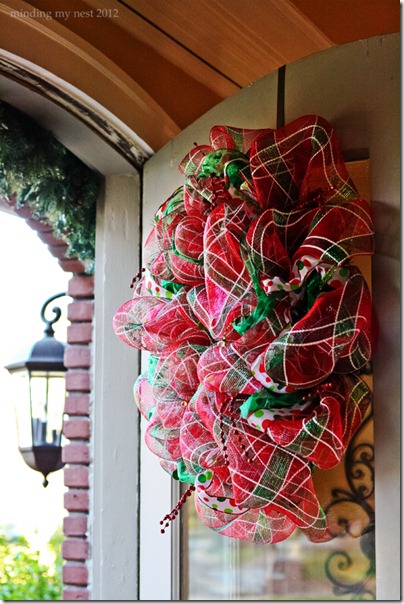 Now that's more like it!

So the lesson here is that if at first you don't succeed. Try. And try. And try. And keep trying and eventually you'll get it right.
Happy Crafting. Love, Kelly