Well I have to admit, after the total blur of the month of November, it is starting to feel a little more like Christmas around here.
The other night I burned a little bit of the midnight oil putting the finishing touches on the cover and first couple of pages of my December Daily.  But I thought what I might do before sharing what I've done so far this year is to share with you a few thoughts about my experience last year.
So last year I totally went all out with tons of embellishments and pockets and whatnot.  And that was OK.  Totally in a different place last year than I am this year so no bigs.  But the thing that I wasn't so crazy about is that I had all the pages decorated, but then some of photos didn't really work in the space I had allotted.  Plus I waited until after Christmas to put get all the pictures together and printed.  So by the time I got around to putting them in the album, I was so sick of Christmas that I didn't add any journaling.  Totally not what I had planned.
This year my plan/hope is to work on it once a week…that way the stuff I want to journal about will be fresh on my mind. And my design this year is much simpler too – a full page (6×8) photo on the right side and a smaller 'layout/collage/whatever' on the left.
Anyway, without further adieu, here is my December Daily 2012 cover.  I totally love this Basic Grey patterned paper.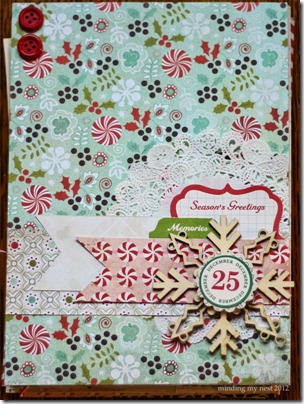 Here's a peek at the inside cover.  One the left is a quote from my planner that I thought would be a perfect sentiment/intention for the month of December and the Christmas holidays.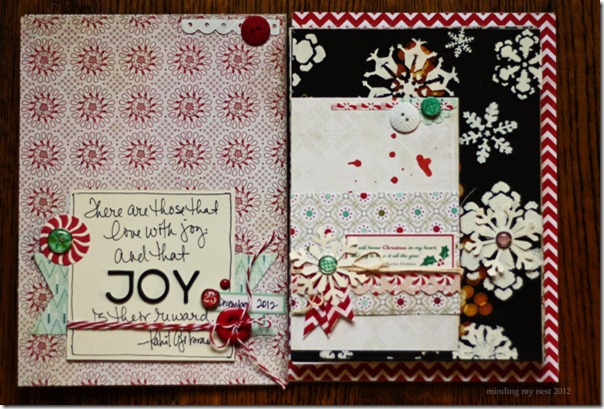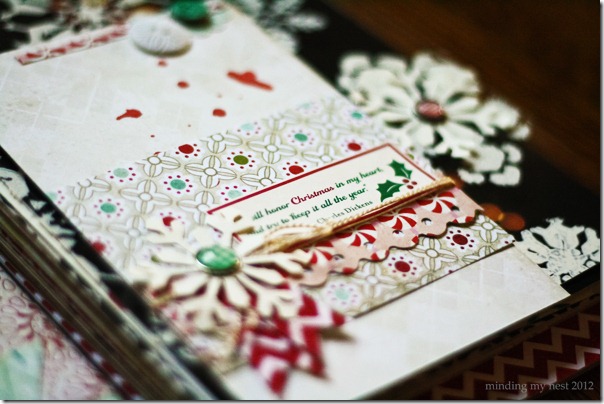 I also included a little journaling about Christmas means to me and my family.  Love this cute little library card that came with some October Afternoon embellishments.
Oh and check out my snowflake transparency!  I'm so proud.

After I found the snowflake stencil at Hobby Lobby, I then went on a mad search for transparencies to stencil them onto.  Office Depot had a package of 25 sheets for the bargain price of something like $40.  So not going to happen.  So I went up to the gal at the printing services desk and asked her nicely if she could sell them by the sheet.  I also complimented her cute earrings which may or may not have sealed the deal, but at any rate she sold me four sheets for $1 each.  Score!

That afternoon I came home and made my stencils.  So happy with how they turned out!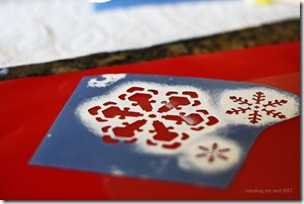 So all I've really done on the rest of the album is to cut the inside pages to 6×8.  I put a little sketch on the left hand side, but depending on how how many pictures I might do something different.  Plus I'm sure I'll ending up adding so more stuff as the month goes along.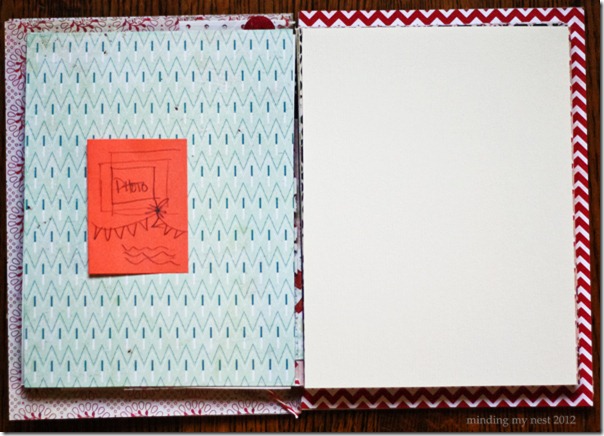 Naturally since I'm planning to include full page photos, I've been giving a lot of thought to the types of photos I'd like to take.  If you need inspiration there are a bunch of websites that offer photo prompts for the months of December – perfect for a December Daily.
Here are a couple I came across that looked fun:
Haven't totally decided the extent to which I'll play along with them, but definitely some great inspiration for photos.
So here we go friends.  The Christmas season is upon us.  My hope for myself is that I will be mindful of the joy that abounds this time of year and find a way to preserve and celebrate it in my photos and my December Daily.
Peace, Kelly
P.S.  I'm planning to share all my pages as they are finished on my December Daily Flickr page and here on my blog.