One of the things I love most about my husband is his love of travel and adventure. Left to my own devices, I would probably stay home and make cupcakes and scrapbook all day. I don't have the NEED to travel like Tripp does. But I do so love adventure. And now that we've sold the boat, our weekends are now free to pursue other types of fun, family activities. And this past weekend Tripp planned a little weekend getaway to Robber's Cave State Park.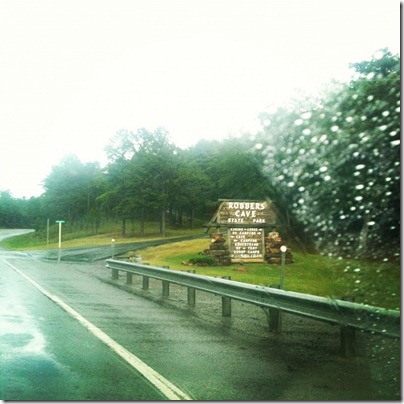 What's great is that it's only about a 2 1/2 hour drive from Tulsa. Well that is unless you stop at Pete's Place in Krebs, OK for dinner first.
According to TravelOK.com-
Robbers Cave State Park is located in the scenic, hilly woodlands of the San Bois Mountains of southeast Oklahoma. This park is a favorite of rappellers, equestrians, hikers and outdoor lovers. The park and adjoining wildlife management area offers acres of discovery and enjoyment including trout fishing in season, hunting, miles of hiking and equestrian trails, rugged cliffs for climbing and fall foliage viewing.
There are several lodging options at Robber's Cave State Park including camping/RV sites and cabins. But the cabins were all full (there were tons of family reunions going on last weekend!) so we stayed at the Belle Starr Lodge. The views outside our room were spectacular!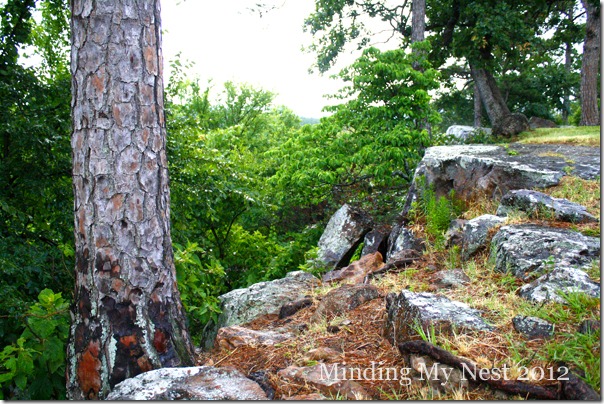 Now the one thing we weren't prepared for was the fact that there is no restaurant/café/snack shack/hotdog stand within the park. But the town of Wilburton is only a 10 minute drive away so Saturday morning we made our way into town and found The Corner Café. Which as the name suggests was a café. On the corner.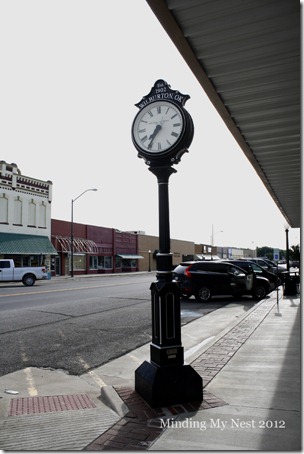 Can I just pause here and tell you how much I LOVE small towns. Maybe it's because I am from a small town (well it was small when I was growing up). And maybe it's because I so identify with many of the values that small towns are known for – hard work, family, faith, community. It really made me sad to see so many of the shops along Main Street boarded up or closed. I have no idea how to fix the problem of our disappearing small towns, I just would like to state for the record that I think they are worth saving.
Anyway, after a delicious breakfast, the next activity on the agenda Saturday morning was a little horseback riding. Tripp booked our ride with the D Bar T Stables and we arrived to find the old barn and photo gallery of the owner Cowboy Dan Tolmachoff, a rodeo champion and Hollywood equestrian stuntman.
After we got saddled up, we followed our trail guide through the beautiful San Bois mountains. It was a gorgeous, sunny morning perfect for meandering through the woods on horseback.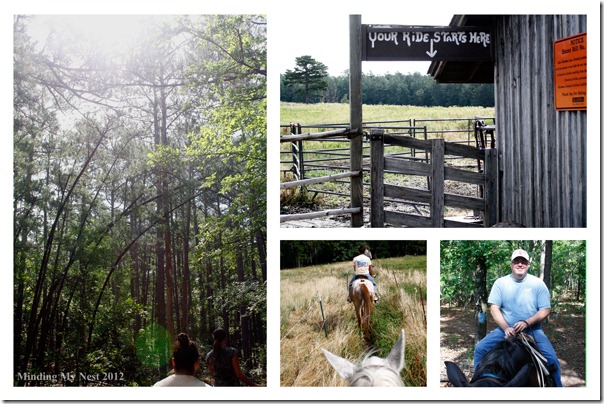 After our morning horseback ride, we made a quick trip back into town for a light lunch and then came back to the lodge to change into our hiking gear. Next on the list – Robber's Cave!
Robber's Cave is made up of outcrops (exposed rocks) from the Savanna Formation which are approximately 320 million years old (Pennsylvanian). Sorry, I'm a Geology nerd. The caves and crevices were caused by the varying rates of erosion of the different layers of sandstones and shales. A process that took place over millions of years. And it's about close as Oklahoma is going to get to this.
The park has a couple of options for exploring the interesting rock formations – you can walk the perimeter along or nice path. Or you can get down and dirty and crawl over, under, and through the massive boulders! And really, that's the only way to really experience how massive this rock formation really is!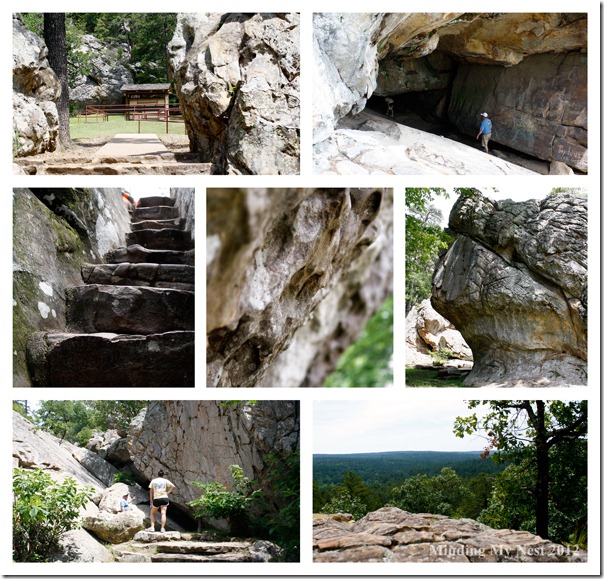 So as the name suggests, Robber's Cave was used as a hideout back in the days of the outlaws. Legend has it that Jesse James (and his gang) and Belle Starr both hid out in the caves at various times. I need to ask my dad about this though – he is an expert in all things Outlaw and Old West.
After our afternoon hike, we went back to lodge and changed into our swimsuits. The park area has a great little lake where you can fish, swim, and even rent paddleboats. They also have a great little swimming pool which is how we chose to spend the rest of the afternoon.
Later that evening after, you guessed it, a trip back into town for dinner – just for the record, I suggested that we bring food

– we made it back to the D Bar T Stables just in time for our scheduled hay ride.
The three of us and about 20 other park guests all climbed aboard the haybailed flat-bed trailer and Cowboy Dan drove us up through the woods to Cattail Pond. What a perfectly lovely evening and such a scenic place for a little photo taking. At the 'Golden Hour' no less!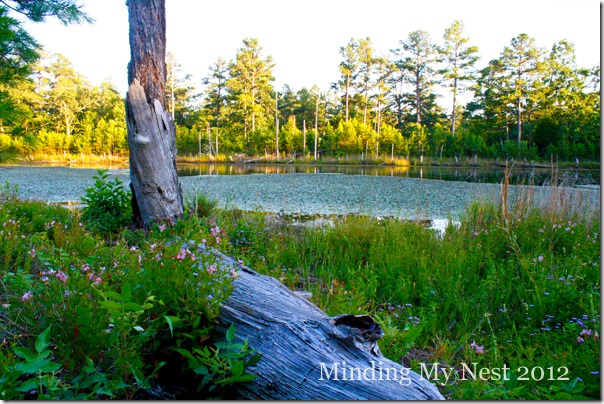 And we got back to the lodge just in time to enjoy a magnificent sunset and moonrise.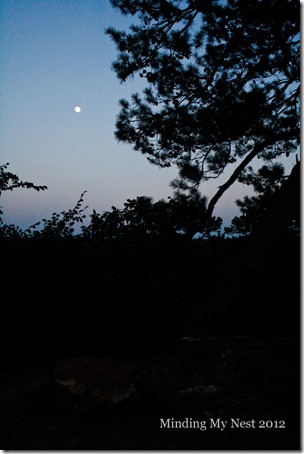 The next morning, we checked out of the lodge and then got ready for the next phase of our weekend adventure! Unfortunately that did not include a tasty breakfast at the Corner Café (they are closed on Sunday as was the rest of the town of Wilburton), so we drove on through town towards the highway. And as luck would have it, we found the cutest place on Highway 63 in Talihina – The Hateful Hussy Diner!
I just loved this place – it had such a great, laid back, upbeat vibe. Inside, the café was full of what appeared to be equal parts locals and travelers (always a good sign in my opinion). Plus the staff was super-friendly. And they had great coffee. And amazing biscuits and gravy. I'm just sayin'.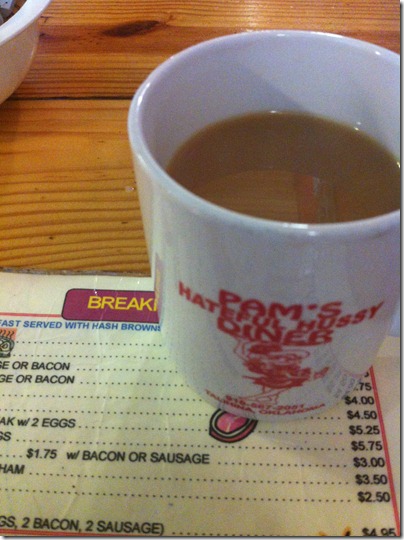 After our delicious breakfast (and with full bellies), we set off on the last leg of our journey.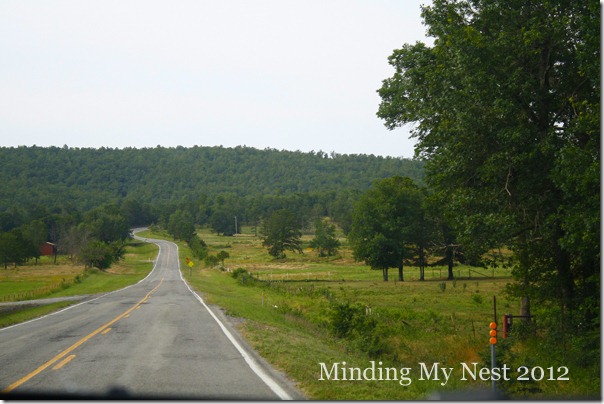 When we were planning our adventure, Tripp thought it might be fun to take the long way home via the Talimena Drive – something we've both always wanted to do. And I am so glad that we did! It's about a 50 mile drive through the Oachita Forest taking you through the peaks of Rich Mountain and Winding Stair Mountain. Although we didn't stop at every scenic overlook, we took the opportunity to stop a couple to enjoy the most incredible vistas. Seriously – this is Oklahoma! Who knew??
I'm so glad we decided to take this way home and I definitely want to come back some day to experience the Talimena drive in the fall. And what's great is that we could totally make it a day trip from Tulsa.
I just can't say enough about our weekend. There was so much to love and a big part of it was that it was all right in our backyard, so to speak. I've been so fortunate to have seen some really beautiful places on this planet, but nothing compares to a brilliant sunset over the state that I call home.
Peace, Kelly