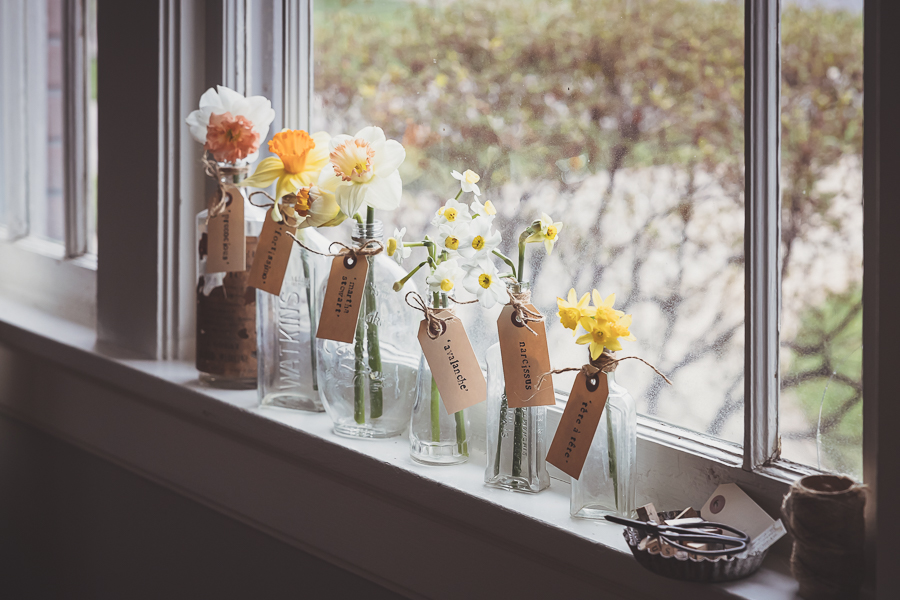 As daffodil season starts to wind down in my neck of the woods, I thought I would take this opportunity to share all the cheery, spring goodness that these delightful blooms have brought to my yard this year. You might recall that last fall I placed a big ol' order of daffodil bulbs, and I am very happy to report that all of them have bloomed this spring.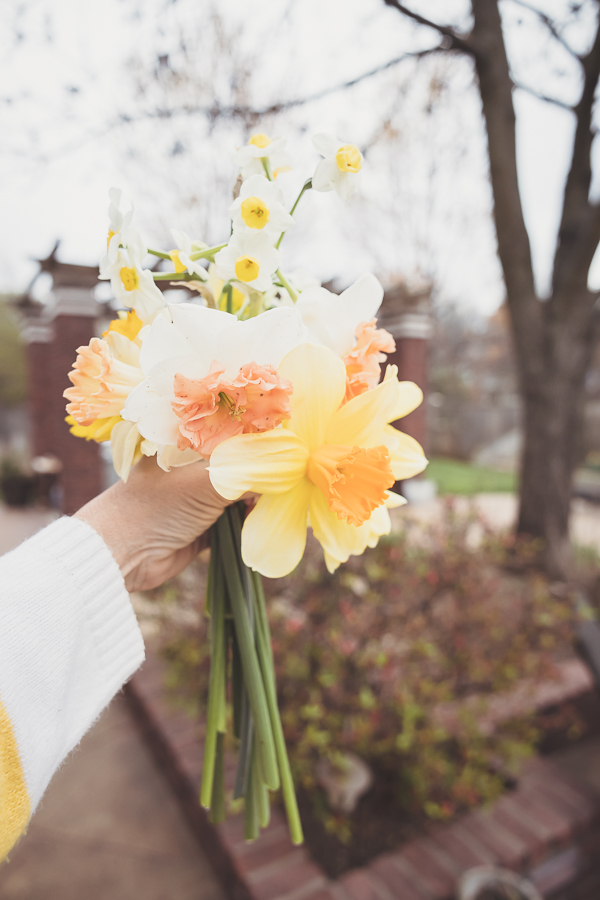 What I didn't mention last fall was that I did a fair amount of research (aka going down the rabbit hole) on daffodils in general, and I learned a lot about the different divisions and the unique characteristics of daffodils. So instead of just sharing a bunch of pretty pictures of daffodils, I thought it would be fun to share some of what I learned with you.
Now I realize that classifications of daffodil bulbs might not sound all that fun to you, so you are welcome to skip this next section and scroll on down to the pictures. But, if you would like to geek out with me, you can read on to learn more about these iconic, delightful, harbingers of spring.
Daffodil General Information
To get this botanical party started, all daffodils belong to the genus Narcissus which is in the family Amaryllidaceae. Now it's possible you might (like my mom) refer to all of these flowers as jonquils – I think it's a regional thing. But regardless of what you call them, all the members of this genus have conspicuous flowers with a "corona" (the cup or trumpet) that is surmounted atop set of six "tepals" (the petals).
Are you having fun yet?
Types of Daffodils
Daffodils are classified into divisions based on two main criteria:
flower form, as determined by the shape and length of the corona, especially in terms of the ratio between the length of the corona to the length of the petals
number of flowers per stem
I warned you it was going to be geeky!
Besides these divisions, other characteristics of daffodils include bloom time (early, mid, and late season) as well as the colors of the cup and petals.
According to The American Daffodil Society, there are 13 recognized divisions of daffodils. But for the purpose of this post, I am only sharing information about the types that I have growing in my yard.
You're welcome. <<wink>>
Trumpet | These daffodils feature a single, large flower per stem with prominent cups as long or longer than the petals. This would be your 'basic' bright yellow daffodil like the varieties that are widely available to purchase at garden centers and home improvement stores. These are also some of the earliest daffodils to bloom in the spring.
Large Cup | Large cup daffodils also feature one large flower per stem with the cup being more than one-third, but less than equal to the length of the petals.
Small Cup | Small cup daffodils have one flower per stem with short cups that are less than one-third the length of the petals.
Cyclamineus | These sweet daffodils have one flower per stem and are typically on the smaller side. Their most charming characteristics include the way the petals are reflexed (turned back) and the acute angle at which the flower sits on the stem. This division is also one of the earliest to bloom.
Jonquilla | Jonquilla daffodils often bloom in clusters with several flowers per stem and have petite flowers with small, open cups. Most of these varieties are strongly fragrant – think of the typical "heady" flower scent that you often associate with spring – and bloom later in the season.
Tazetta | Tazetta daffodils feature clusters of 2-20 dainty flowers on each sturdy stem. The flowers feature short cups and are intensely fragrant. These bulbs are excellent for forcing indoors such as the 'Paperwhites' that are often grown around the holidays.
Daffodil Show and Tell
So now that you are bored to tears and know more than you ever wanted to know about daffodils, below I am sharing photos and a little bit about the varieties that I grew in my yard this year, presented in order of their bloom time.
Dutch Master (King Alfred)
Division: Trumpet
When I think of daffodils, this is what I picture in my mind. Some of these daffodils were already here when we moved to our house and some I planted not long after we moved in. I've shared about them on my blog for years because they just make me so happy and signal that spring is on its way.
Tête-à-Tête
Division: Cyclamineus (miniature)
These are the first "fancy" daffodils I bought for my yard probably 10 years ago. (Fancy meaning anything different than the typical large, trumpet type.) I planted them out front by the sidewalk and they have continued to bloom and spread ever since. They are utterly delightful little flowers and are one of my favorite still life subjects in the spring.
Barrett Browning
Division: Small Cup
I jokingly refer to this variety as my "gateway" daffodil thanks to Floret Flowers. I discovered Floret several years via Instagram, and I immediately fell in love with the their gorgeous flower photography. From Erin I also got to see the wide varieties of daffodils that are a wonderful addition to the spring garden. So that fall, when they offered their spring-flowering bulbs for sale, I couldn't wait to add this elegant variety to my cart.
Next up are all of the bulbs I planted last fall!
Precocious
Division: Large Cup
When I was researching and deciding which types of daffodils to buy last fall, I wanted to include a few that were a little out of the ordinary. And I think this one totally fits that bill with its peachy-coral ruffled cup.
Avalanche
Division: Tazetta
I also wanted to include at least one variety from the divisions I mentioned above. I love the mix of these sweet, dainty blooms in contrast to the larger varieties I planted. And the fragrance!! For such tiny blooms it's incredible the amount of scent they put off! It was a delight for the senses during my morning walkabouts.
Fortissimo
Division: Large Cup
Oh hello beautiful. Just as the early blooming daffodils were starting to fade, this handsome guy was just getting started standing tall and proud along my driveway. I really liked the deep yellow cup in contrast to the pale yellow petals.
Martha Stewart
Division: Large Cup
This is another variety that I chose for its unusual color. The pale-yellow blooms fade to a creamy-white color, and I just love the hint of coral at the edges of the cup.
Golden Dawn
Division: Tazetta
There is something so sweet to me about a these clusters of dainty, yellow blooms. This is another variety with an amazingly strong fragrance, plus I love how long the flowers lasted in the garden.
Yazz
Division: Jonquilla
This was the first of my 'jonquils' to bloom, and I have been enjoying these peachy (and fragrant!) flowers in my garden for a couple of weeks now.
Beautiful Eyes
Division: Jonquilla
I have been enjoying these charming blooms and subtle scent for the past couple of weeks. When I was planting my bulbs last fall, I started running out of places to put them, so I popped these into a big pot on my patio. Once the foliage dies back, I will put them in the ground nearby. But totally going to plant bulbs in this big pot again!
Altruist
Division: Small Cup
This beauty is currently blooming in my front yard and is very similar to the Barrett Browning variety that bloomed earlier the spring. I love how it extends daffodil season into mid-April.
It has been so much fun this Spring watching as all the green shoots came up around the yard. I was giddy with anticipation as each variety got ready to bloom. If you feel inspired to grow daffodils in your yard, I highly recommend it! They are incredibly easy to grow and generally pest/critter free (which is nice if you happen to be battling neighborhood bunnies who see your tulips and pansies as their personal all-you-can-eat plant buffet).
But that's another story for another day.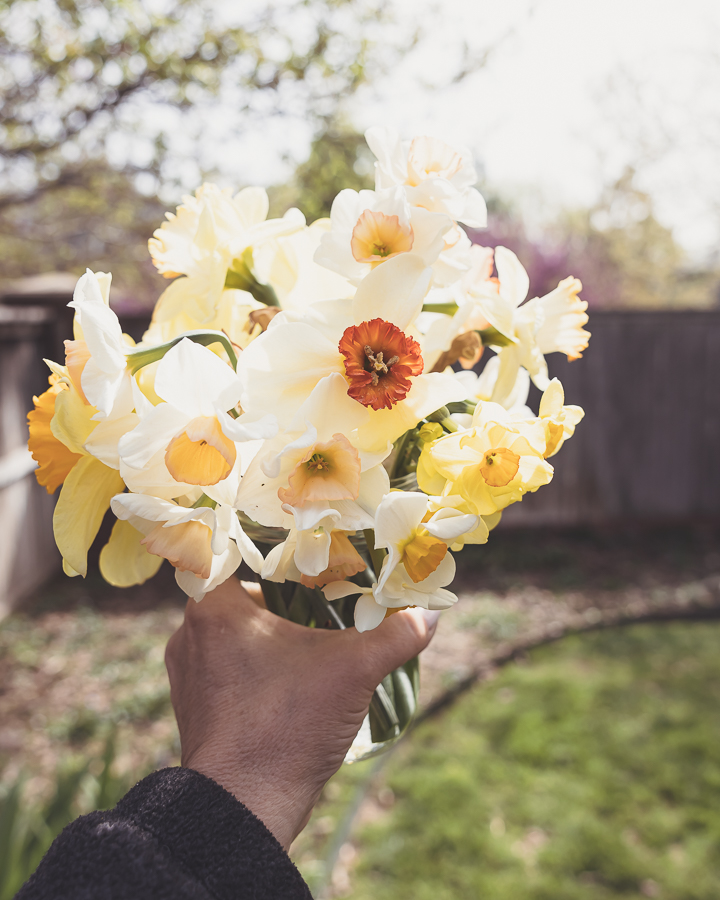 Also, if you are looking for sources for some of the more specialty daffodil varieties, below are the online stores that I ordered from last fall:
Oh wait, did you want to see my orders in a spreadsheet? I'm so glad you asked!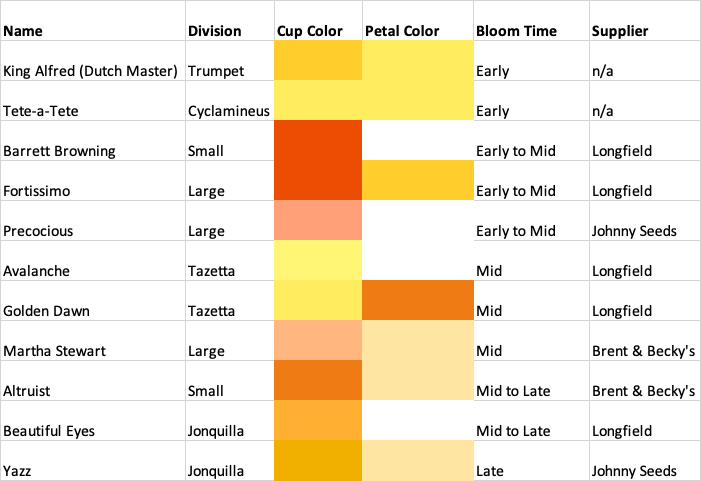 Please…I know…don't say it….
Anyway, if you're still here reading, thank you for following along with me today. I sincerely hope the joy these flowers brought me throughout the season brings you a little happiness as well.
Love, Kelly