Yesterday was my kind of Sunday – a little coffee drinking, paper reading, church going, and, yes, even a little piddling.

I spent the better part Saturday cleaning house, but I intentionally left the dining room for Sunday because I needed to take down the last of the Christmas stuff and spend some quality time with my buffet playing my favorite game…rearranging knick-knacks!
Wanna play??

Yay!!
I just love this antique buffet. I think it's technically a vaisselier (which is a fancy French word for a dresser for dishes), but no matter what you want to call it, I think it's so beautiful. I love the rich wood tones and the elegantly carved details.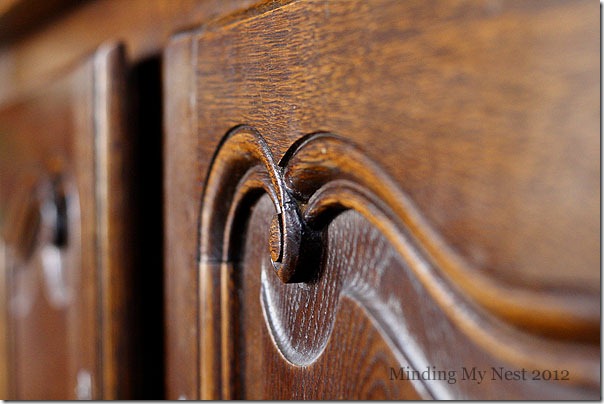 And I absolutely adore these charming curlicue legs.
I also love that we outbid the crazy lady with blue eye-shadow at the Brandon Auction to get this piece, but that's another story for another day.

Anyway, the first thing I did was to take everything off and wipe it down with a little Scott's Liquid Gold. The buffet lamps have to stay because of the "creative" way I have them connected and plugged into the socket in the baseboard. (Oh the joys of having a 100 year old house.)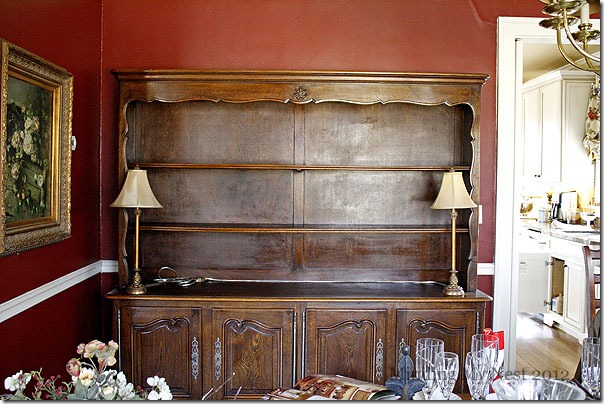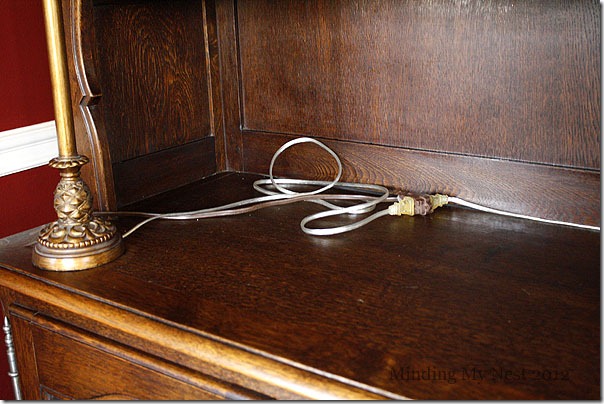 Back in the day, before there was Pinterest, we used to have these old-school things called magazines and books. LOL So I tore some pages out of my old Traditional Home magazines for some design inspiration.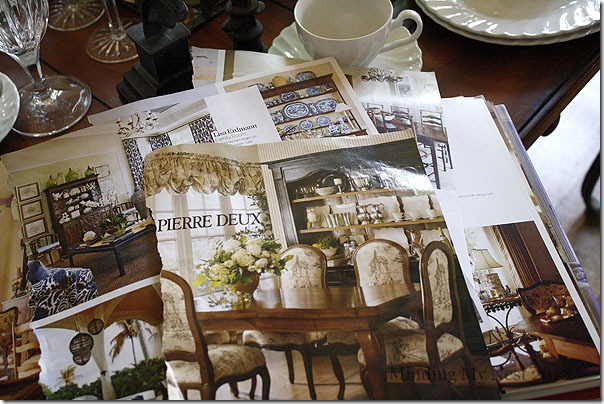 I also liked this buffet in Charles Faudree's book, Country French Living, especially the combination of pewter and green, leaf plates.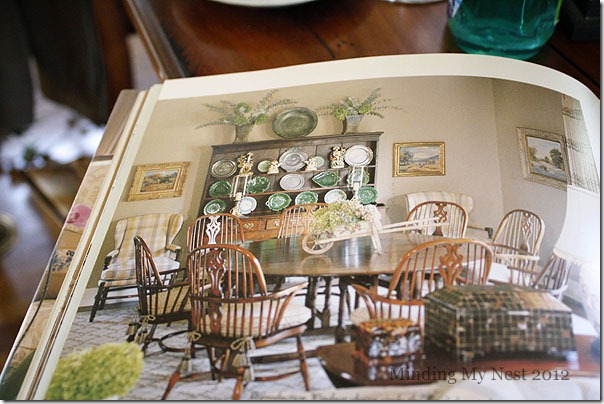 So first I set my favorite green serving dish on the top shelf, front and center. Then the next thing I did was to put a greenery bush in the bottom left corner to cover up that ugly plug/extension cord business.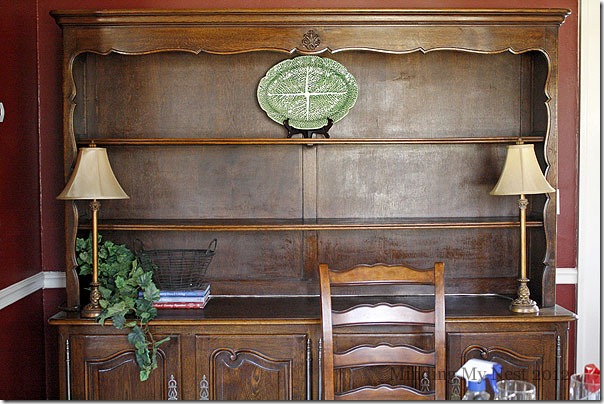 I know, I know – Nate Burkus says to never use fake greenery, but he obviously has no idea what a freak I am. (I have a bit of a thing about cords and plugs showing, so I strategically place all sorts of decorative items throughout my house to hide them.) Sorry Nate, but we're just going to have to agree to disagree about this one.
OK. Next I placed the crystal glasses on each side and the Champagne flutes that we used at our wedding in the center in front of the green dish where they will twinkle under the halogen lights in the top (a little tip from my mom). Then I added four plates to fill out the top shelf.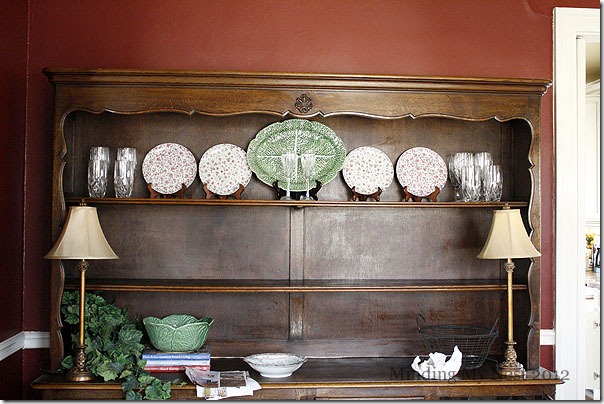 Now, what to do next…the pictures I tore out all have mostly symmetrical layouts. I like symmetrical design because it's classic and I think it's soothing and restrained. But then sometimes too much I think is a little boring and predictable.
Symmetrical or Asymmetrical…That is the question!

Alright, symmetrical it is. I experimented with a couple of different bowls in the center of the second shelf. I like the size of the green bowl, but I think it looks kinda weird directly underneath the green plate.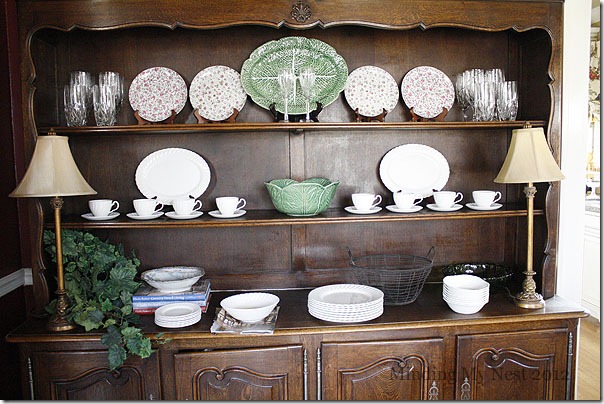 Then I tried stacking my white china plates with the serving bowl, but eh….not really feeling it. However I do like the green bowl in the bottom left corner. Think I'll keep that there.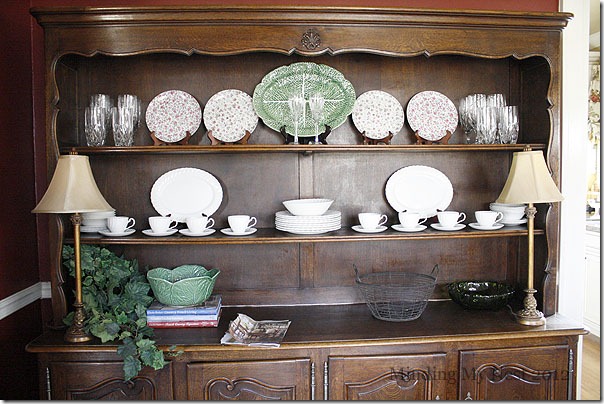 I remembered this glass bowl I had in another cabinet and I really like it here in the middle. Then I put another greenery bush on the bottom right and I think it's a nice visual triangle with the green plate up top.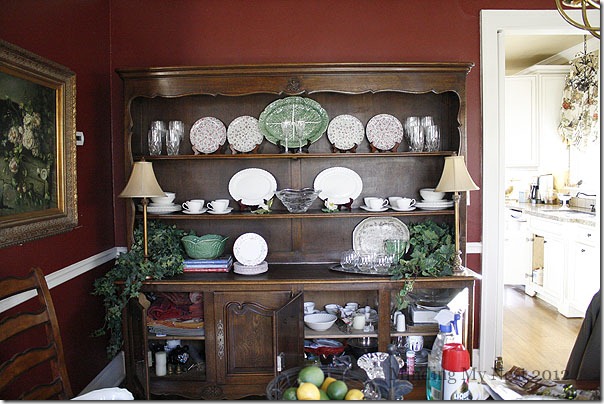 Now the next issue…what to do at the top of the cabinet. I've been thinking that maybe having all that stuff up there is too busy. Maybe I should try to reign that in a bit. The magazine photos have either nothing or a few very large urns (which I don't have). So I tried just leaving it unadorned.
But there just comes a time when you realize that while it's great to try new things and experiment, sometimes you like what you like and that's OK too.

So with that in mind, here is the final product. I'm happy with it – fake greenery and all.
Thanks for playing along – I hope you had fun.

And thanks for letting me be me.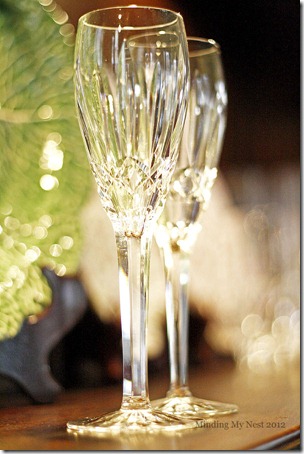 Love, Kelly