I wrote my first blog post about fall foliage in November 2010. I had purchased my first DSLR camera a few months prior and was still very much a beginner trying to figure everything out. But even so, being able to capture the colors of the season with my camera was a joy and a thrill. Fast forward to today and I still feel the same sense of awe and wonder as wander the streets of my neighborhood photographing fall foliage.
No doubt, twelve years of learning and growing as a photographer has taught me a great deal of how to photograph the beauty of this special season. Some of it has been learning how to operate my camera and how different settings affect the final image. But I think the biggest lessons have been in learning how to "see" and how to translate that in the choices I make in settings and composition.
So today, as we enter into the peak season for fall foliage in my neck of the woods, I thought I would share with you some of my favorite ways to capture the beauty and magic in photos.
In The Spotlight
When fall foliage is this spectacular, shooting with a shallow depth of field (DOF) is my go-to way to highlight these magnificent colors and add a bit of a wow factor. The key here is the way that a shallow DOF isolates and emphasizes the subject…basically it's like telling the viewer "this is what I want to you look at".
In terms of camera settings, a shallow DOF is accomplished by choosing a wide aperture setting (usually f/2.8 to f/4.0). Plus, in addition to isolating my subject from the background (or possibly the foreground), using a shallow DOF will blur the background which will create some lovely bokeh in the image.
Hello my name is Kelly and I am a bokeh junkie.
Also…..
Warning!! Shameless self-promotion alert! I have a whole lesson on bokeh (shooting with shallow depth of field) in my photography class, Everyday Magic.
The Big Picture
There is nothing like walking through my neighborhood and seeing entire trees practically ablaze in vivid colors of garnet, magenta, coral, and gold. So often times, instead of focusing on a specific branch or individual clusters of leaves, I like to pull back and focus on the bigger picture. For these kinds of shots, I will typically set up my shot with a narrower aperture so that more of the scene is in focus. I love the way including more of the scene gives some context to the image or tells a little more of the story.
Looking Down
Every year there comes a point when there are more leaves on the ground than there are left in the trees. And every year this is my cue to point my lens downward to the colorful carpet of confetti at my feet. I find the tapestry of shapes and colors and textures to be utterly fascinating. A mesmerizing mosaic and work of art by nature herself.
Looking Up
I have often argued that this is the prettiest time of year in my neck of the woods. The insufferable heat and humidity of summer has give way to cool, crisp mornings and warm, sunny afternoons, and it is a complete joy to be able to spend time outdoors during the day.
I often find myself looking up to the sky this time of year. I love the way the color of the leaves "pop" against the brilliant blue sky. Also, I find that looking up towards the sky makes me feel small and insignificant. And I mean that in the very best way possible.
Ground Level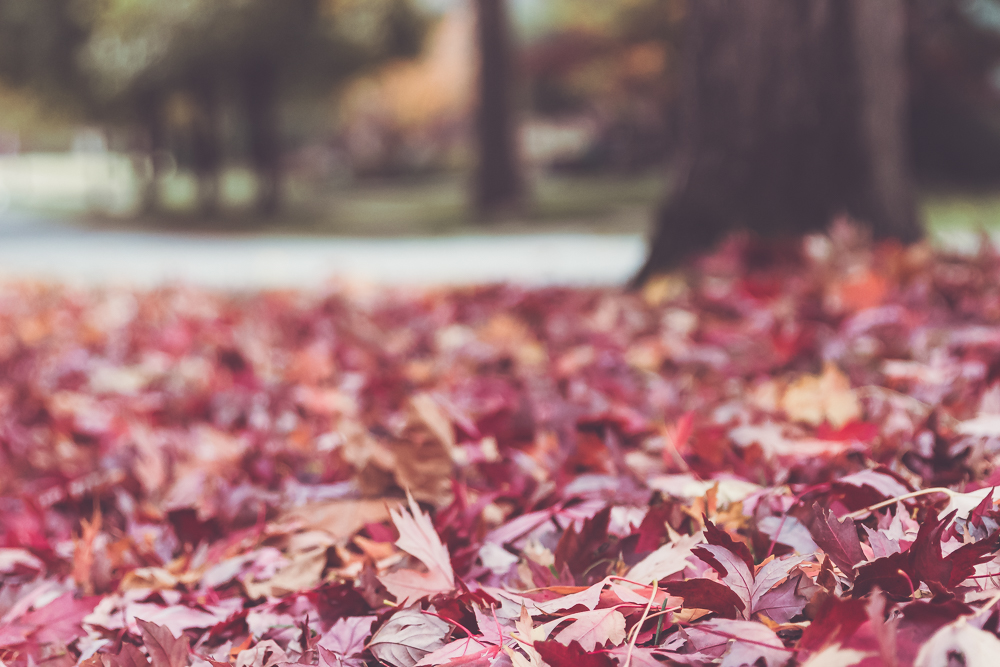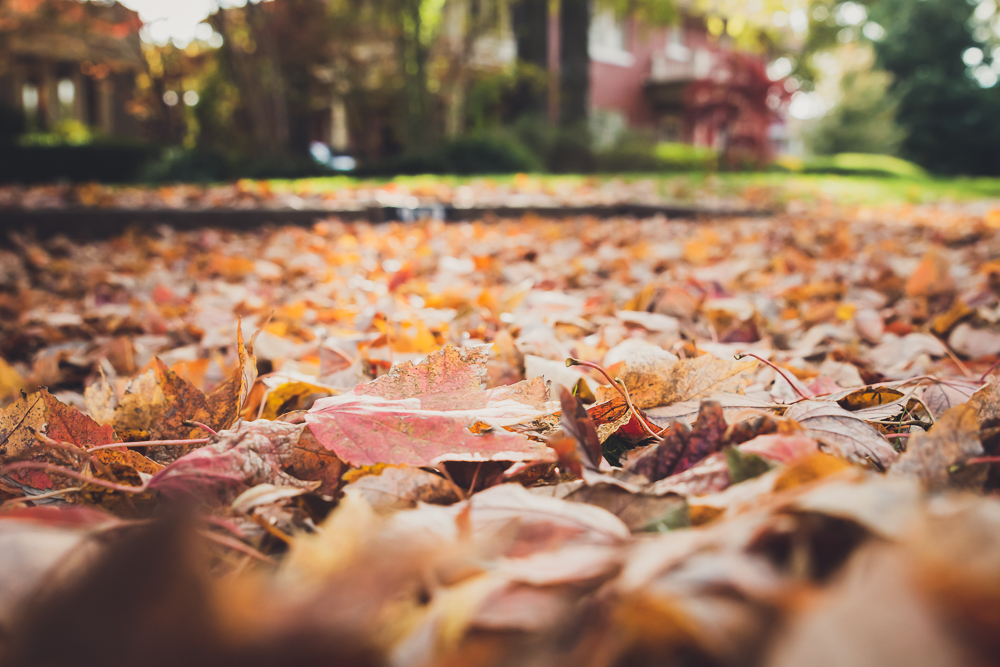 Autumn is a multi-sensory season. Besides seeing the stunning array of colors, you can hear the rustling as you walk through fallen leaves. And you can even smell the distinct earthiness as they pile up on the ground. Because of my my brain's extraordinary ability to take in and translate this sensory information, I am able to perceive these details while I am standing up and looking forward.
Unfortunately we don't really have the ability to convey these kinds of sensory details in a photo, so we have to get creative to help the viewer feel more immersed in story we are trying to tell. One of my favorite ways to do that is to stoop down to my subject's level which can give the feeling (or perception) that the subject is bigger or closer. It also offers the viewer a new and different perspective of an ordinary thing which always makes for a more interesting photos.
Also, don't worry if your neighbors look at you funny – that just means you're doing it right. <<wink>>
Something Unexpected
As much as I love capturing the beauty of fall leaves, sometimes I enjoy taking a less literal and more whimsical (or even abstract approach). That can look like photographing them from inside my house, using reflections, or intentionally blurring my photo for a more ethereal vibe. In these kinds of shots, the leaves are still present, but they're not the main focus. It's less about accurately representing their visual reality and more about creating a sense of mood. These kinds of shots invite the viewer to read between the lines or interpret their own meaning.
Whether you are or a photographer looking for inspiration or simply someone who loves the season of fall, I hope you enjoy these photos as much as I enjoyed taking them. And if you are a photographer, I hope I have given you some helpful tips and ideas for how to capture fall foliage in your neck of the woods.
Love, Kelly