It was the day after Mom's 17th birthday and she really wasn't interested in tagging along on Harriett's double date. After all, she was "technically" engaged to a Navy guy stationed in San Diego. But she was still mad at him for wrecking her car. Not to mention the fact that he had a nasty temper and stood about three inches shorter than she did. So Mom finally said yes to Harriett and joined them just for fun.
Across town at the Air Force base, Daddy and his friend Jerry were making plans for their double date. Daddy was still disappointed that his girlfriend got grounded and wouldn't be able to go out, but Jerry's girlfriend, Harriett, had found a replacement at the last minute.
That night Mom got dressed to go out. She decided to wear the plaid wool skirt her mother had made for her to wear in the Miss Knob Knoster pageant. But instead of the matching plaid blazer, she opted to wear a fitted brown sweater. Daddy traded in his Air Force uniform for a pair of khaki pants, black loafers, yellow oxford shirt, and yellow cardigan sweater.
After Harriett and Jerry introduced them, Mom was instantly smitten with Daddy's good looks and strong hands. Plus he had a cool 1960 Chevy hardtop with black leather interior and red interior lights. Daddy was impressed that Mom recognized his Hurst shifter, and when she asked him, "What do you got in this thing?" he knew that this girl was something special.
Their double date went well and Daddy was determined to ask mom out on a real date. And so the next day Daddy broke up with his girlfriend and called Mom to ask her out.
Their respective relationships were not the biggest obstacle to overcome to having an actual first date however. Rather, it was Edna's strict rule forbidding Mom from dating Airmen from the base. Luckily, Daddy was taking night classes at the nearby community college, so when it came time to pick up Mom for their first real date, Mom introduced Daddy as a college student. Technically it wasn't a lie, so Daddy nodded his head in agreement.
After their first date, Mom wrote a letter to her Navy guy breaking off the engagement. Her diamond ring wrapped neatly inside.
Mom and Daddy started going steady and later that spring Daddy was Mom's date for her Junior Prom. And then a few weeks later Daddy accompanied Mom to her father's funeral.
Mom and Daddy were affectionately known by their friends as 'Butch' and 'Charlie'. My mom came by her nickname honestly as she was quite the tomboy. And my dad's handle was a much easier to pronounce abbreviation of my dad's French last name. That summer, the two of them became a fixture at the Dog 'n Suds where they hung out with their friends. And in the hotrod Chevy, Butch and Charlie cruised the main drag and drag raced anyone brave enough to go up against them.
By the time Mom started her senior year, she and Daddy were pretty serious. Daddy had finally come clean to Edna about his position at the Air Force base, and even with two strikes against him (strike #1 – Airman, Strike #2 – Catholic), Daddy got Edna's blessing to ask Mom to marry him. So later that fall, in front of Knob Knoster High School, Daddy proposed. And Mom said yes.
Mom, Edna, and Granny began planning the wedding almost immediately. And Daddy traded in his souped up Chevy for a more practical Ford Fairlane. After Christmas, Daddy got the orders that he was being sent to Chanute AFB in Illinois for six weeks of tech training. And while he was away, Mom and Daddy wrote letters to keep in touch. Mom closed each one, "An ocean of love with a kiss on every wave."
Daddy returned home to Knob Knoster a week before the wedding. And then on July 1, 1967 my mom and dad were married.
Today my parents celebrate their 45th Anniversary. I love them so much and I am so proud to call them my parents.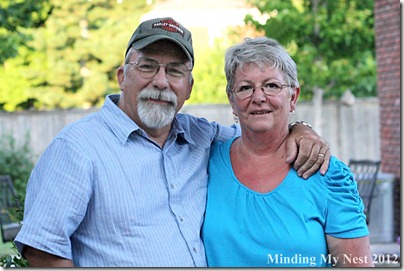 Happy Anniversary Mom and Daddy! Love, Kelly